When you are looking for a content management system (CMS) for your website, you would want to choose one that can be used easily by everyone in your organization. Well, Cascade CMS is one that has something for everyone and is loved by everyone, including developers. The CMS offers a high level of flexibility that enables fast development, helping developers create high-performing websites conveniently.
Here we will discuss the robust features Cascade content management system brings to the table for developers.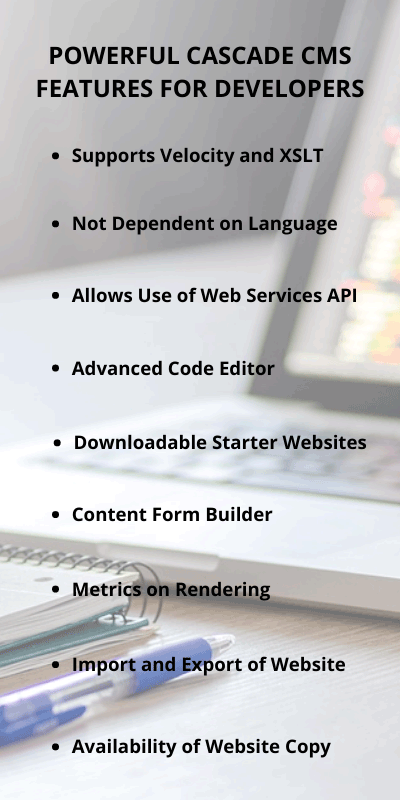 Cascade CMS Features for Developers
1. Supports Velocity and XSLT
Cascade supports Velocity as well as XSLT for writing formats. You can even use them both on the same page. With the Cascade content management system, you can achieve more with less code and employ built-in tools for harnessing content.
2. Not Dependent on Language
Cascade offers you the freedom to implement any server-side technology that works best for you, like JSP, ColdFusion, .NET, or PHP. In this way, technology roadblocks are much less with Cascade CMS.
3. Allows Use of Web Services API
With Cascade CMS development, you can employ the Web Services API for extending product functionality and integrating with custom-built applications or third-party tools.
4. Advanced Code Editor
A built-in and syntax-highlighting editor, Advanced Code Editor can be used for various languages, auto-formatting and auto-indentation, code snippets and code folding.
5. Downloadable Starter Websites
With Cascade CMS web development, you can download news center, faculty directory, social media mashup, course catalog, emergency notifications, and much more, free of any extra charges.
6. Content Form Builder
Content Form Builder among the Cascade CMS features allows you to build structured content wizards for users without technical expertise. You can create structured fields quickly with the feature's easy-to-use drag-and-drop functionality.
7. Metrics on Rendering
Cascade lets you evaluate rendering times for every area on your web page. This can help you to better identify and target those areas that can be optimized further.
8. Import and Export of Website
In a few clicks, you can transfer the production website to a development instance with Cascade, thereby maximizing the portability of content.
9. Availability of Website Copy
In less than a minute, you can build a new website based off a template website with Cascade web development.
Embrace Cascade CMS Confidently with eWay Corp!
With such solid Cascade CMS features for developers, building a high-performing website is easier. Cascade web content management system comes with several benefits and works especially well for higher education websites.
Have a Cascade CMS website on mind? Build a cutting-edge website with a professional cascade development agency by your side. With years of experience in Cascade development, eWay Corp can help you get a feature-rich, robust, and dynamic Cascade website. Hire Cascade CMS experts at eWay Corp to build a website that takes your business or organization to the next level. Let us talk today; we will be happy to tell you more about our Cascade development services.