What is one thing that the Government of Australia, the Government of Estonia, or the Government of India have in common? Well, the central governments of all these countries rely on Drupal CMS for their website development. In fact, Drupal was also the preferred platform for housing the White House website and many US government websites.
Government Agencies Preferring Drupal CMS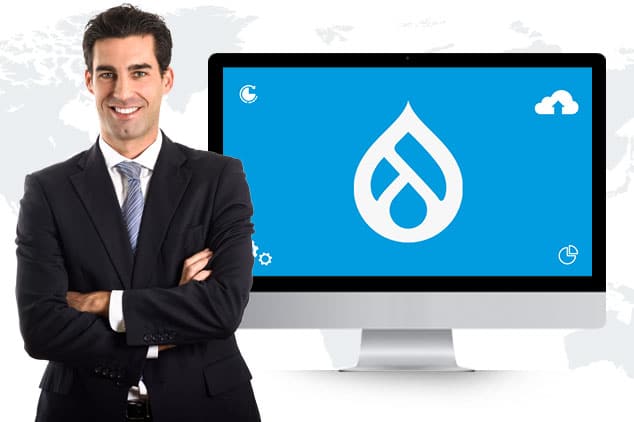 To understand why the central government of many countries prefers Drupal CMS over other content management systems, it's important to understand the purpose of a government website is very important.
Government Website: Purpose
Well, the purpose of a government website is not only to serve as a vital conduit for sharing information and updates but also to provide a wide range of online services to people within their jurisdiction. Additionally, it should champion diversity and inclusiveness by adhering to the strictest accessibility requirements.
It should come as no surprise that many government websites used to have a negative reputation for being some of the densest and least creative web pages. According to Forrester's 2019 US Federal Customer Experience Index, a staggering 80% of US federal agencies received a "poor" or "very poor" rating in comparison to the 14% of organizations in the private sector.
Hence, this called for careful consideration and selection of the right CMS for government website development.
Digital Transformation & Drupal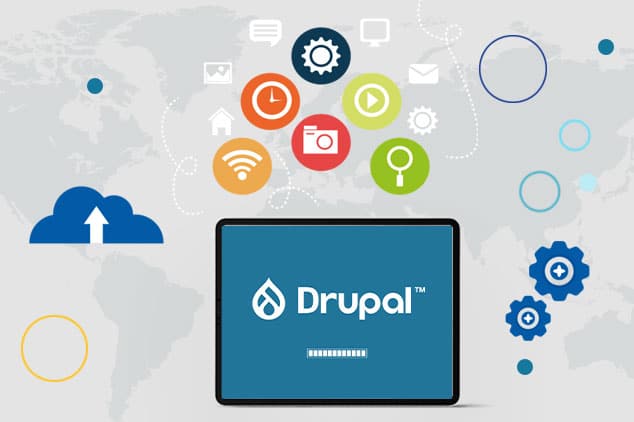 There has never been a greater pressing need for digital change in the public sector, i.e., government. Governmental organizations from all over the world are at various phases of reinventing the citizen experience in response to shifting public preferences for digital services and behavior of the government workers.
This transition was significantly sped up by a global pandemic that made it difficult for federal, state, and local government entities to satisfy an unprecedented demand for a variety of services offered online. Many government offices were unable to cope with the unexpected demand for information and services using obsolete technology.
Websites for crucial services like vaccination appointments and unemployment claims collapsed, while data remained locked away in separate silos across many organizations, blocking the sharing of crucial information. This led to disappointment among citizens.
Digital transformation of the public sector was already well underway when the COVID-19 outbreak put government digitalization into overdrive.
The 21st Century Integrated Digital Experience Act (IDEA), which was introduced in December 2018, for instance, requires government agencies to provide the digital experiences and customer support that customers generally demand from private sector enterprises.
And with good reason—a staggering 88% of American residents anticipate interacting with local, state, and federal governments online. These constituencies expect current online help and information, especially during emergencies. (Source: Acquia)
Facilitating Good Digital Experience with Drupal CMS
In order to meet the expectations of the citizens for a better digital experience means giving the citizens access to the content and also to the services they need. At the same time, it calls for personalizing the customer experience and maintaining compliance with security standards.
The best way to do all these is to choose a content management system like Drupal CMS that can easily customize the digital experience of citizens when they visit their website.
Drupal is the Best Choice for Government Websites
We all know that Drupal is a widely popular content management system, which is known for its security, flexibility, and scalability. Being an open-source platform, it has been a leading choice for many organizations, including government agencies.
But why do government agencies use Drupal CMS over other CMS solutions? Given below are some of the prominent reasons that make Drupal the best CMS solution for government agencies.
As of 2021, Drupal is used by 56% of the world's government websites. Plus, more than 150 countries are using Drupal to build their websites. The reason for its popularity is its ability to scale easily. Also, it can easily meet the public sector's need to offer a greater digital experience, while ensuring security and compliance.
Governmental organizations utilize Drupal to provide a central management point for networks of websites that enhance people', companies', and other stakeholders' access to information, services, and open data. A CMS may in some circumstances even be in charge of digital signage at physical locations, such as the New York City Metro system.
In short, Drupal is a good choice for government because of its adaptability, security, and multilingual capabilities. Now let's take you through the reasons that make Drupal CMS has greatly benefited government organizations.
What Government Websites Need?
Government organizations at all levels are under increasing pressure to change their digital offerings. More people are expecting to be able to communicate with the government online and through mobile devices in the same way they interact with top consumer brands.
This means governments are tasked with choosing a content management system that meets the needs of people. An enterprise-grade CMS gives government agencies the tools to deliver exceptional, trusted digital experiences citizens expect.
Government agencies require a CMS that:
Has security and compliance built in.
Offers customizing options.
Facilitates the distribution of multichannel content and quick updates.
Can be easily configured for governance.
Is inexpensive.
Is simple for less tech-savvy consumers.
Features that Need to be Present in a CMS
Constituents do not desire a uniform, generic experience. Similar to what customers receive from top consumer companies, they anticipate individualized encounters catered to their unique requirements and tastes.
However, it can be difficult for government organizations to achieve this while upholding higher levels of accessibility, security, and compliance.
That's where Drupal CMS comes into play. It already has the essential elements that each government website needs:
Compliance
Particularly in the digital sphere, governments must adhere to a number of rules, regulations, and standards. This includes abiding with regulations governing data privacy, information security, and other laws that are relevant to online services and content. Ensuring compliance creates a foundation of honesty and trust, protecting both the government and the individuals it serves.
Security
It's important to protect government websites from numerous online dangers. This covers defense against ransomware, data breaches, secure elections, and unemployment fraud. Keeping the public's trust and the integrity of governmental activities requires ensuring security.
Accessibility
When it comes to ensuring that websites are accessible to those with disabilities, governments are held to the highest standards in the world. WCAG 2.0 level AA and above conformance is mandated by law in an increasing number of jurisdictions.
Flexibility
It is envisaged that government websites would be able to meet a variety of demands and provide a wide range of public services. To ease the stress on government workers, this involves allowing various forms of contact, whether in-person or through phone lines.
Scalability
In order to give access to a constantly increasing range of services, government websites must evolve to keep up with demand. By doing this, companies can accommodate changing demands for more users, more services, and new digital experiences. Drupal CMS, for instance, enables your organization to create a website that is accessible in 60 different languages.
Transparency
Governments must be transparent about their spending, particularly when it comes to things like website construction and upkeep. Citizens are able to understand how public monies are being used because of this openness, which also encourages accountability.
Therefore, even if a government website may appear straightforward, the platform that powers the website needs to be both intricate and simple for non-technical individuals to use at the same time. This is what makes Drupal CMS the best choice for building government websites.
Well, a good CMS needs to have all the above features. And Drupal CMS can meet all of them. That's why it is always the first preference for building government websites.
What Makes Drupal CMS Stand Out?
Wondering why do government websites use Drupal? Drupal CMS tends to significantly alter the web development environment for governmental websites. It offers top-notch online services that support a dynamic digital transformation for its consumers.
Here, we have jotted down the following important Drupal CMS capabilities that make it stand out platform for building government websites.
Drupal CMS Individualizes the Experience for Citizens
A CMS is expected to offer personalized interactions that easily cater to each citizen's wants and preferences. Citizens desire content and mobile services that are pertinent to the stage at which they are of working with the agency.
Governmental organizations should try to offer:
Profiles of citizens with contact and payment details.
Citizen data insights to understand preferences.
personal experiences based on data from citizens.
Based on channel preference, omnichannel communication
To create thorough citizen profiles, it is necessary to combine data from many departments and organizations. Additionally, such data must be reliable for creating target audiences based on behavior and safe for access.
The easiest method to achieve that is by integrating a customer data platform (CDP) with your content management system (CMS). This can be achieved with Drupal CMS.
Drupal CMS Offers Modernized Infrastructure
With Drupal, you may move from outdated infrastructure and implement effective cloud-based solutions that serve as the building blocks for scalable, improved digital experiences for citizens.
With Drupal CMS you have the choice of traditional, headless, or hybrid CMS architecture to provide your company with the reliable, future-proof content infrastructure they require to change digital citizen experiences across channels and touchpoints.
Drupal CMS Offers Compliance & Security Measures
Compliance and security are of utmost importance for government organizations. A CMS must also follow important government regulations like FedRAMP, HIPAA, and CCPA right away.
Instead of depending on IT assistance, Drupal also makes governance possible through reusable components with built-in security measures. This maintains consistency while freeing up IT resources and eventually lowers costs.
Since security is non-negotiable for federal websites. Drupal CMS's security is rigorously examined by a global community and a dedicated Security Team, ensuring prompt identification and resolution of vulnerabilities. This commitment helps the government maintain trust and credibility among citizens.
Drupal CMS Known for Unparalleled Cost-Efficiency
Unlike proprietary CMS platforms with expensive licensing, Drupal CMS is free and open source, resulting in significant cost savings for federal agencies. This cost-effectiveness is particularly valuable for governments facing financial constraints, allowing them to allocate resources to essential public services.
Drupal CMS Comes with Scalability and Flexibility
Whether it's a small local government project or a vast federal digital ecosystem, Drupal's scalable architecture can handle the workload. Modules and third-party integrations can be easily added or removed, ensuring seamless scalability and making Drupal CMS a future-proof solution for government web needs.
Centralized Management with Multisite Features
Governments often operate multiple websites across different departments or sectors. Drupal's multisite capabilities provide centralized control, simplifying updates, security enforcement, and content management across various platforms.
Democratizing Information through Multilingual Support
Federal agencies serve a diverse population, requiring multilingual support. Drupal CMS excels in this regard, ensuring that crucial government information is accessible to citizens who speak different languages.
User Engagement and Accessibility
Drupal CMS prioritizes user experience, with built-in accessibility features like ARIA attributes and semantic HTML. This ensures equitable access to public information and services for all citizens, including those with disabilities.
Drupal CMS Offers Community-Driven Innovation
With a robust developer community, Drupal CMS continuously evolves to adopt best practices and the latest technologies. This commitment ensures that federal websites remain up-to-date, secure, and effective in serving the public.
Drupal CMS didn't become popular only after big brands embraced it; it was already a renowned CMS choice in the market, known for its above-mentioned features.
Working with eWay Corp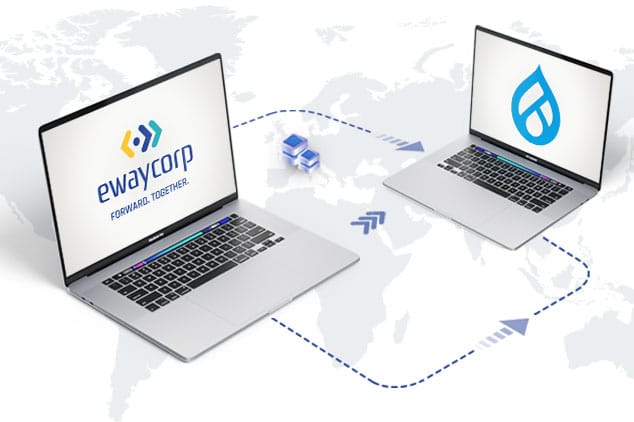 If you are a government agency and looking for a Drupal website development partner, then look for eWay Corp. We have worked on countless number of Drupal projects, including building government websites.
So, if you want to build a government website on Drupal right from scratch or just want to modify any existing government website, eWay Corp is the best option for your upcoming Drupal website development project.
Don't hesitate to get in touch with our team of Drupal CMS experts right away. We would be pleased to point you in the direction of the most practical business options.
Projects We Have Worked on Drupal
Some of the Drupal projects that we have successfully completed and are worth mentioning include ERSRI and Fort Bend County.
Final Thoughts
To satisfy the rising expectations and requirements of its residents, the government has become increasingly dependent on digital transformation. Although such a change might be difficult, it ultimately pays off for both the people and the government.
Therefore, a government that is prepared to adopt the required digital technologies may improve the quality of life for its people and strengthen the bond between the people and their government. Drupal CMS demonstrates that it is the finest aid in creating a link between the populace and their government.
About the Author
Kiran Singh is a learned professional with 6+ years of experience in development using Drupal 7 & Drupal 8, Drupal 9, and Drupal 10. Kiran holds extensive experience in building custom modules with elaborate knowledge of Drupal APIs (Application Programming Interfaces). Worked on D7 (Drupal 7) to D9 (Drupal 9) Migration and performance of sites. She has worked on third-party integration. Till now she has worked on more than 10 Drupal projects. To know more about her expertise, visit her LinkedIn profile.