Have you heard about the latest version release of Cascade CMS? It is Cascade CMS 8.23. Even though it's a minor release, it comes packed with a lot of enhancements and improvements worth taking note of.
In the latest Cascade CMS 8.23 update, we get to see a lot of cool stuff. For instance, with this update, you can now use Google Analytics 4, set stronger passwords, enjoy Google Analytics reports to understand, and have a smoother publishing experience. On top of that, some fixes have been made to make it even better!
Cascade CMS 8.23: Key Highlights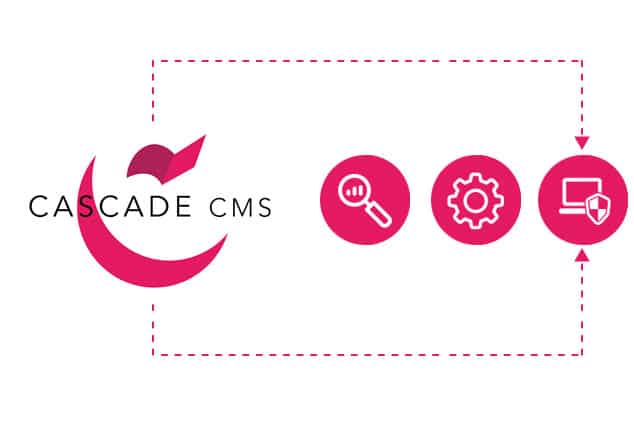 Let's take you through a detailed overview of the improvements in Cascade CMS 8.23. They are:
Google Analytics 4 Support
First, Cascade CMS 8.23 now supports Google Analytics 4. So, what does this mean? Well, this means you can view GA4 data directly in your site reports and even at the Folder and Asset level.
In fact, one will be able to see even new metrics, such as the engagement rate. To put it simply, you can see more data about your website, like how many people visit and how they interact with it.
Content Owners in Report CSV Exports
Second, in the CMS 8.23 update when you download reports about old or reviewed content, you'll now see who's responsible for each piece. It's like having a name tag on every piece of content!
Basically, now, when you download reports about old or reviewed content, you'll see the name of the person who created each item. This will help to identify who's responsible for what, even when you're looking at these reports outside of the CMS.
Stronger Password Policies
Third, Cascade is upping its security game! They are making sure that everyone sets really strong passwords. Why? Because it is going to keep things safe. This follows the NIST 800-53 security standards. If you want to know more about the requirements of the new password policy, you can visit the website for more information.
So, it won't be wrong to say that Cascade CMS 8.23 is going for stronger password requirements. Basically, all Cascade users with native password authentication should now have stronger passwords.
Now that we have discussed the key highlights of Cascade CMS 8.23, let's take you through the Cascade release notes.
Cascade Release Notes
In the release note of Cascade CMS 8.23, one will get to see a detailed list of the new features or improvements, along with some major fixes brought to it.
Features/ Improvements
The latest improvements brought to Cascade 8.23 are:
Admin Area Assets Just Got Clearer!
If you're checking out things like Data Definitions, Publish Sets, or Shared Fields in the admin area, everything will look neat and complete — no more missing out on the table columns!
Plus, if you see any errors or warnings while trying to delete assets, they'll now give you more details, like where they're located. It's all about making things clearer for you.
Boosted Password Strength!
For everyone using regular login, their passwords need to be super strong now. Well, it comes with a set of rules. Dive into our 'Adding a User' guide page for all the details.
Google Analytics Reports are Speedier!
Cascade has tweaked the way Google Analytics Reports is handled. So, now there isn't any need to wait for ages for them to load, even if there's a ton of data.
Publishing? More Reliable Than Ever!
In the event, you ever faced connection issues while publishing, don't sweat it.
Optimized Page Rendering!
Cascade has made some behind-the-scenes magic to use memory better when showing pages. Plus, we've fine-tuned some techy XML stuff to keep things clean. Basically, Cascade CMS 8.23 has made page display process even better by using memory more efficiently. And guess what? They have tweaked the tech stuff, so we won't toss out any XML details, even if they're not being used. It's all about making things smoother for end-users.
Google Analytics 4 Connector!
Good news for data lovers! Cascade CMS 8.23 will now allow you to connect with Google Analytics 4. Thus, helping you to get all those insights right in.
Fixes
Wondering what are those fixes?
Cascade CMS 8.23 comes with the following fixes. They are:
Issues with multi-op operations like publish and copy have been addressed.
Working copies won't get orphaned if there's an error starting a workflow.
Asset naming has been made more flexible.
Comments in assets will display better.
The audits table will now be sorted by the Time column by default.
Several other minor fixes and improvements have been made to Cascade CMS 8.23.
Cascade CMS 8.23: Upgrade Guide
If you're thinking of upgrading Cascade CMS to its latest version, remember that the Delete option for the LDAP Configuration Orphaned User Behavior is being phased out. Why so? This has been done to prevent accidental mass deletions during an LDAP sync. Also, always back up your data and set up a test environment before upgrading.
First Time Installation
Installing Cascade CMS for the first time? Then this post is right for you.
Before you dive in, remember to bring in the default database layout. Once you are done with that, just follow the setup steps that match your system.
Thinking of an Upgrade? Steps Involved
Hold on! We will take you through the steps.
First, turn off your current Cascade CMS.
Second, always make a copy of your main database before making any changes.
Third, don't forget to check out all the notes and guides from every update between your old version and the new one.
Cascade CMS 8.23: Requirements
What are the system requirements for using Cascade CMS 8.23? Or want to know what platform it supports?
Let's take a look at it.
System Requirements
First, let's look at the system requirements for Cascade CMS 8.23.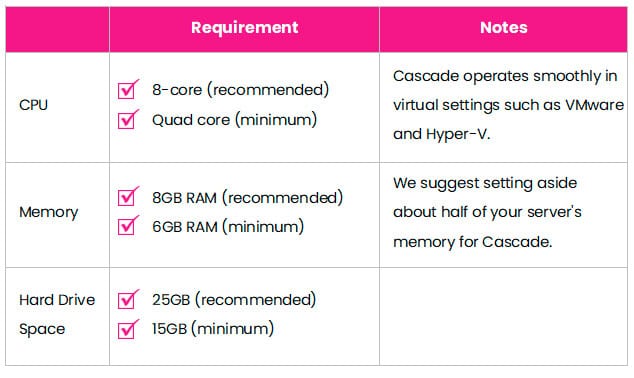 Supported Platforms
Now, let's take you through the supported platform details for Cascade CMS.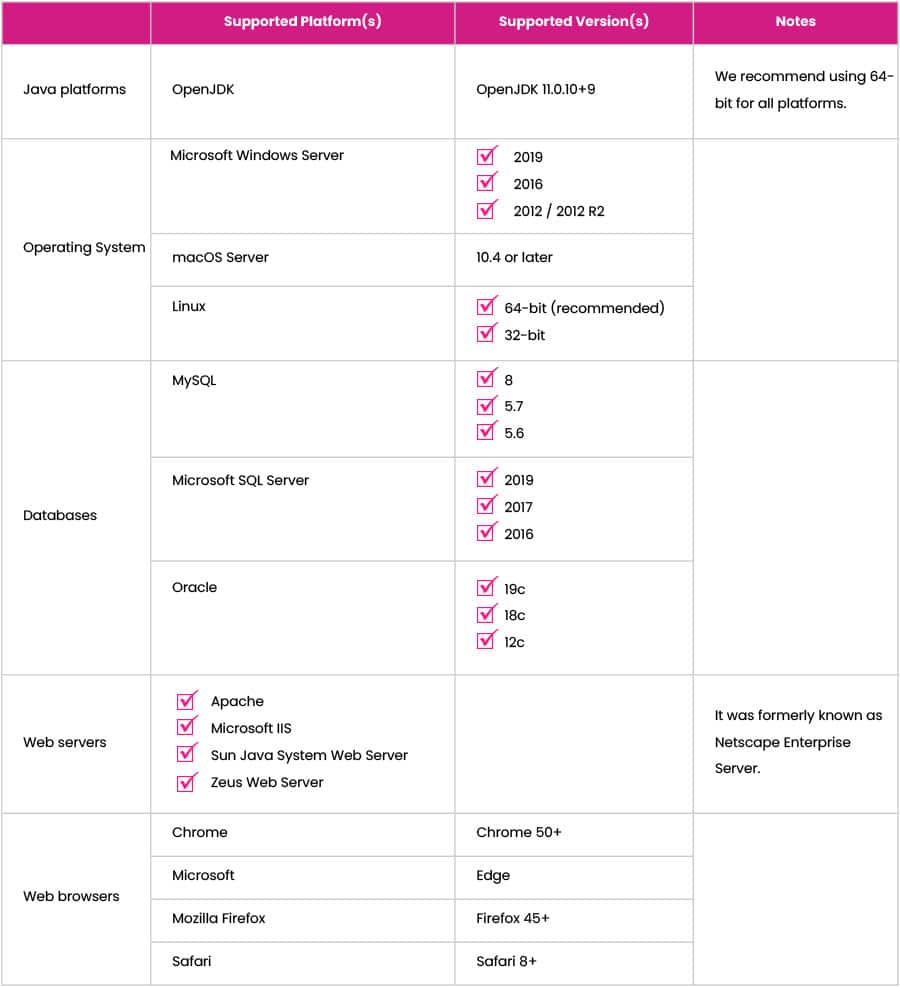 Professional Help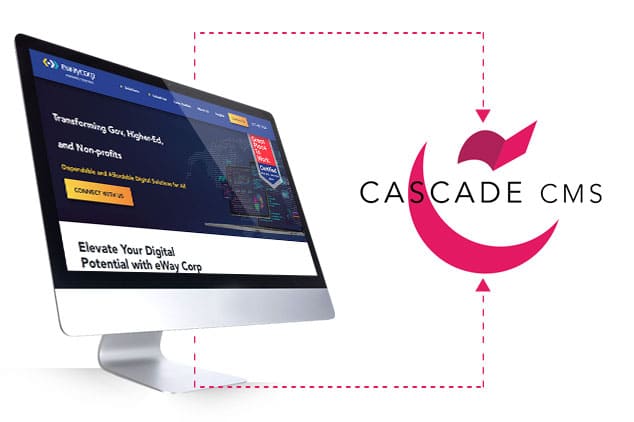 Do you want to know more about this Cascade CMS? You should get in touch with eWay Corp experts. Our professionals will be more than happy to solve any queries related to Cascade CMS.
If you need help with the Cascade CMS frontend, we are just a call away! With many Cascade CMS projects under our belt, we will be glad to help you on this matter or resolve any queries.
About the Author
Mansi Pragya, a seasoned Team Lead, boasts an illustrious career rooted in WordPress & Cascade CMS mastery. With a B.Tech in Computer Science, Mansi's expertise spans front-end and back-end technologies, including HTML, CSS, JavaScript, and PHP. As a certified AWS Cloud Practitioner and BigDev for BigCommerce, she has a diverse portfolio, specializing in WordPress & Cascade-based educational, informative, eCommerce, and non-profit websites. Beyond her technical acumen, Mansi excels in client communication and project management. When away from the coding world, she finds solace in music. To know more about her, visit her LinkedIn profile.