WordPress 6.3 is finally out. According to the WordPress core team, it's the second major release of 2023. As the tradition goes, like earlier versions, the WordPress latest version, WordPress 6.3, has been named after the legendary American jazz musician Lionel Hampton.
As usual, the latest WordPress version comes with many new improvements and features that would enhance our website-building experience. The latest WordPress release is monumental. It gives designers, creators, and builders cool new tools that makes managing websites easier than ever!
With WordPress 6.3, you can create beautiful and compelling websites more efficiently than ever. Whether you just want to build a website without codes or simply want to customize every detail, WordPress 6.3 might pique your interest.
What Is the Latest Version of WordPress?
So, what's the latest WordPress version available? It's WordPress 6.3.
As per official sources, the WordPress latest version, WordPress 6.3 was officially released for the users on 8th August 2023 at 3.00 PM ET.
WordPress Usage Stats
WordPress is the most popular Content Management System (CMS) in the world. In fact, WordPress is used by 43.2% of all websites on the internet, and it has a market share of 63.1%. (Source:W3Techs)
WordPress is completely dominant in the content management system market. As a matter of fact, 63.3% of websites that use a CMS leverage WordPress. (Source: SearchLogistics)
Now, to understand the popularity of this CMS, let's look at the figures that clearly depict the percentage of websites using different versions of WordPress.
Most importantly, WordPress version 6 powers 72.5% of all websites. On the other hand, version 5 is used by 21.4% of all websites. Going by the data, it's clear that WordPress version 6 will rule the CMS world for some time. And, with the release of WordPress latest version, WordPress 6.3, its popularity is going to soar.
Significance of the Latest WordPress Version, WordPress 6.3 Release
The WordPress latest version is more than just an update; it's a revolution in the digital landscape. Every time a new version rolls out, the anticipation is palpable, and this time is no different.
In fact, the current WordPress version has managed to surpass expectations. Considering that over 43.2% of the web is powered by WordPress; therefore, whenever a new release announcement like the WordPress latest version, WordPress 6.3., comes out, it's bound to make waves.
The inspiration behind naming it "Lionel"
Well, WordPress has a tradition of naming its versions after jazz legends. So, just like during WordPress 6.1 or 6.2 version, this time also, they've chosen to honor Lionel Hampton, a jazz maestro. Just as Hampton's music resonated with many, the current WordPress version aims to strike a chord with its users.
So, naming the latest WordPress version after him, it's a nod to the harmony, rhythm, and innovation that both the artist and this version represent.
In essence, the WordPress latest version is not just about features; it's about celebrating creativity, innovation, and legacy.
According to Matías Ventura, WordPress 6.3 Release Lead:
"Lionel" marks a major chapter in the evolution of WordPress as a tool for expression. It's the culmination of years of work from hundreds of contributors, bringing a more powerful and cohesive editing experience for crafting websites with blocks. It continues the quest of making web publishing approachable for everyone—so it's also just a new beginning!" (Source: WordPress)
Diving into Gutenberg's Progress
Well, the Gutenberg project is the heart of the WordPress latest version, WordPress 6.3. Let's go through its evolution and see how it shapes our digital experiences.
Gutenberg project & its Phases
Firstly, Gutenberg is not just a name; it's a transformative project that began with a vision to revolutionize the WordPress editor. Since its inception, the goal has been to make website creation more intuitive and user-friendly.
Gutenberg got divided into multiple phases. And each phase was aiming to bring a fresh perspective and enhancement to the platform. While the latest WordPress version showcases the culmination of one such phase, i.e., Phase 2, it's essential to understand that Gutenberg's journey started much earlier.
From its initial phase, which focused on the post editor, to the subsequent phases that expanded its horizons, every step has been about elevating user experience. And with the WordPress latest version release, WordPress 6.3, we're witnessing yet another milestone in this journey.
Achievements of Phase 2
Diving into Phase 2, the latest WordPress version has truly outdone itself. This phase was all about customization and refining the user interface. Imagine being able to tailor every nook and cranny of your website without any technical know-how. That's the power of Phase 2 in the WordPress latest version.
Moreover, the introduction of widgets and theme customization in this phase has been a game-changer. Now, users can tweak their site's appearance and functionality, all from one place.
Thanks to these enhancements, the WordPress latest version, WordPress 6.3, promises a smoother, more cohesive user experience. In fact, for many, the latest WordPress version has transformed the way they interact with their websites.
In conclusion, Gutenberg's progress, especially in the latest WordPress version, is a testament to WordPress's commitment to innovation and user-centric design.
WordPress Latest Version: The Dawn of a New Era
The digital landscape is ever-evolving, and with the WordPress latest version, the horizon has expanded even further. For the WordPress enthusiast, this new update is more than just an upgrade; it's a game-changer.
In fact, the latest WordPress version brings a plethora of features, tools, and enhancements that promise to redefine the way we perceive and interact with websites.
So, let's embark on this journey and explore what exciting new features the WordPress latest version, WordPress 6.3, has in store for us.
Enhanced Site Editor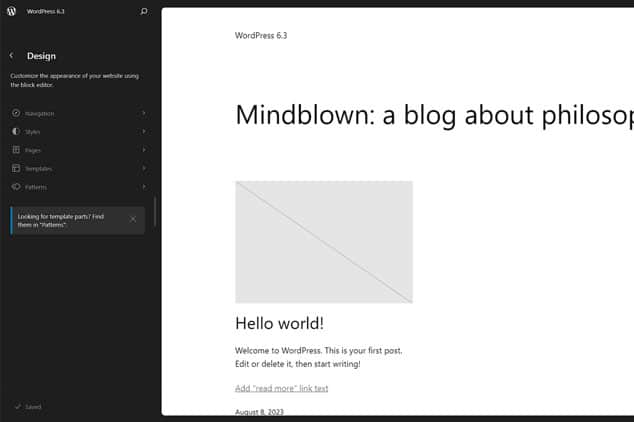 In the WordPress latest version, the Site Editor got a major upgrade. Now, you can manage your content, templates, and patterns all in one place. Imagine having all your tools in one toolbox. Neat, right?
How Is It Going to Help?
No more jumping between different sections. Everything you need is right there, making your website building faster and smoother.
Preview Block Themes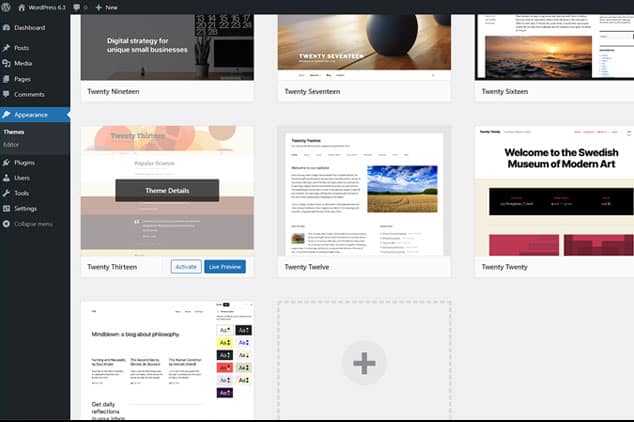 Ever tried on clothes before buying them? The WordPress latest version, WordPress 6.3 lets you do just that, but with themes! You can now preview block themes before making them live on your site.
How Is It Going to Help?
This means no more theme regrets. You can see how it looks before committing, ensuring you always pick the best fit for your site.
Command Palette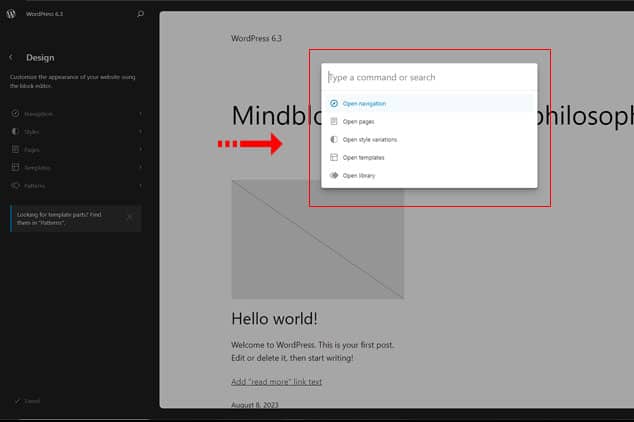 Think of this as a magic wand in the WordPress latest version, WordPress 6.3. With the Command Palette, you can quickly access a wide range of functions without searching through menus.
How Is It Going to Help?
It's like having shortcuts to your favorite tools. This means less time searching and more time creating awesome content.
New Design Tools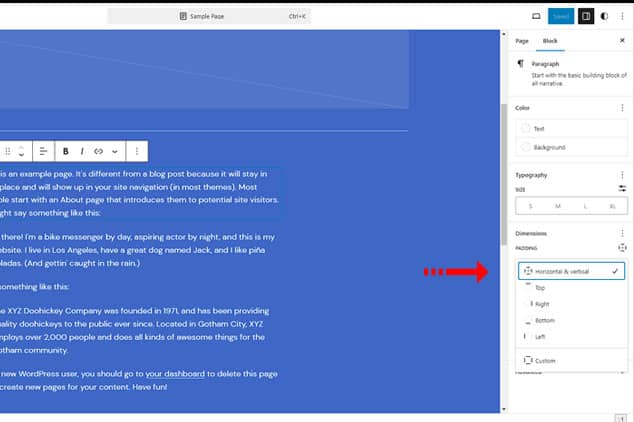 The WordPress latest version, WordPress 6.3, is like a treasure chest for designers. It offers new tools that let you fine-tune your site's design with ease. In fact, the designing process in the WordPress current version is going to be a smooth painting with a palette full of vibrant colors. The new design tools offer a plethora of options to tweak, adjust, and perfect your site's look. Whether it's adjusting margins, playing with fonts, or experimenting with colors, the latest WordPress version is your playground.
How Is It Going to Help?
Your website can now look exactly how you want it, without needing to be a design expert.
Style Revisions
Ever wished you could travel back in time? With the WordPress latest version, WordPress 6.3, you kind of can! You can now track design changes and see how your site looked at a specific time.
How Is It Going to Help?
Made a design choice you don't like? No worries. Just go back to when it looked perfect.
New Blocks
Blocks are the building bricks of your site. And guess what? The WordPress latest version, WordPress 6.3 introduced two new ones – the Footnotes block and the Details block.
How Is It Going to Help?
These blocks make adding notes and hidden content a breeze, making your posts more interactive and fun.
Performance Improvements
The WordPress latest version, WordPress 6.3 is like a freshly tuned car. With over 170 updates, your website will run smoother and faster.
How Is It Going to Help?
A faster site means happy visitors. And happy visitors often come back for more!
Accessibility Enhancements
Everyone deserves to enjoy your website. That's why the WordPress latest version made over 50 improvements to make it more accessible to everyone.
How Is It Going to Help?
A more inclusive site means you can reach a wider audience. And that's always a good thing!
With the WordPress latest version officially out, it's better than ever. With all these fantastic features, building and managing your website will be a piece of cake.
So, if you haven't updated to the WordPress current version, now's the time. Dive in and explore all the amazing things WordPress 6.3 has to offer!
What's The Need for WordPress 6.3 Upgrade?
Still, not convinced. Wondering if upgrading to the WordPress latest version, 6.3., is worth it or not. Then read on.
By now, you must be pretty aware that WordPress 6.3 comes packed with features that are sure to make your website-building journey even more exciting. Let's see how!
A Revamped Site Editor Awaits You
First and foremost, the Site Editor has undergone a major transformation. Now, instead of juggling between different sections, you can manage your content, templates, and patterns all in one place. So, what does this mean for you? Well, imagine crafting your website with live previews and a streamlined workflow. Sounds dreamy, right? That's the magic of WordPress 6.3 for you!
Pattern Management Just Got Better
Second, let's talk about patterns. With WordPress 6.3, pattern management has taken a front seat. Now, you can arrange blocks to create your very own patterns, save them, and even search and edit them with ease. Moreover, the distinction between synced and non-synced patterns is crystal clear, ensuring you have full control over your designs.
Introducing the Command Palette Tool
Ever wished for a magic wand that could speed up your tasks? Enter the Command Palette tool. This nifty feature allows for quick search and command execution. Whether you're navigating to a page, adding new content, or toggling UI (User Interface) elements, this tool has your back. And the best part? It's just a keyboard shortcut away!
Design Like Never Before
For all the design aficionados out there, WordPress 6.3 is a treasure trove. The design tools have been supercharged to offer a plethora of customization options. From designing caption styles without a single line of CSS to managing Duotone filters, the possibilities are endless. Plus, the Cover block settings have been expanded, giving you even more creative freedom.
Performance? It's Through the Roof!
Now, let's talk speed. WordPress 6.3 isn't just about new features; it's also about performance. With over 170 enhancements, your website is set to run smoother and faster. And guess what?
According to Felix Arntz, a contributor sponsored by Google, performance benchmarks for RC3 reveal that WordPress 6.3 boasts a 24% speed increase for block themes and an 18% boost for classic themes when compared to WordPress 6.2, as measured by the Largest Contentful Paint (LCP) metric. (Source: WPTavern)
Also, Felix pointed out that considering that WordPress 6.2 only saw improvements of 18% and 5% in these areas, it's clear that WordPress 6.3 marks a significant leap forward in performance.
So, not only will your site look good, but it'll also perform like a champ!
How the Other Highlights of WordPress 6.3 Benefit Users?
The latest WordPress version, 6.3, named "Lionel", is more than just a regular update. Let's dive into how these additional highlights are set to make a WordPress user's life easier:
Set Aspect Ratio on Images
With the latest version, WordPress 6.3, users can specify aspect ratios for their images. This ensures design consistency, especially when using images in patterns, making your content visually appealing and uniform.
Distraction-Free Designing
WordPress understands that creativity flows best without interruptions. Hence, a distraction-free designing mode has been introduced in the Site Editor. This allows users to focus solely on their content, enhancing productivity.
Revamped Top Toolbar
The Top Toolbar has undergone a transformation. It now offers parent selectors for nested blocks, options when selecting multiple blocks, and an interface embedded into the title bar, all designed with new functionalities in mind.
List View Improvements
Managing content has never been easier. With the updated List View, users can drag and drop content to every layer and delete any block they wish, offering more flexibility and control.
Build Templates with Patterns
WordPress 6.3 introduces a feature where users can create unique patterns to jumpstart template creation. A new modal has been added to facilitate pattern selection, making the design process smoother.
Accessibility
WordPress 6.3 boasts over 50 accessibility improvements, the platform is more user-friendly, especially for those using assistive technologies.
New Blocks for Enhanced Content Creation
The introduction of the Footnotes block allows users to add and link footnotes to any paragraph, enhancing content credibility. Additionally, the Details block lets users show or hide content, perfect for creating interactive Q&A sections or hiding extensive text under headings.
Plugin and Theme Rollback
Ever faced the nightmare of a failed plugin or theme update? The WordPress latest version, WordPress 6.3, introduces an auto rollback feature for such scenarios, ensuring your site doesn't get stuck in limbo.
Technical Upgrades
Under the hood, the WordPress latest version comes with a new emoji loader and options to define a loading strategy for scripts are among the notable technical improvements.
Farewell to PHP 5
In a significant move, the WordPress current version bids adieu to PHP 5, with the minimum supported version now being 7.0.
1WP_DEVELOPMENT_MODE Constant
A boon for developers, this new constant in the WordPress current version offers different settings tailored to various development needs, be it core, plugin, theme, or all.
These are just a few of the many enhancements WordPress 6.3 offers. The platform continues to evolve, ensuring that users have the best tools at their disposal to create, manage, and optimize their websites.
What Latest WordPress Version Release Mean for Developers?
Are you a developer? Yes. Then this latest WordPress version, i.e., WordPress 6.3 won't disappoint you also. Let's see what's in store!
A Farewell to PHP 5
First, the WordPress latest version, WordPress 6.3, bids goodbye to PHP 5. Now, why is this development so important? This means that the minimum version that developers will need to work with is PHP 7.0.0. The latest WordPress version won't work with any other PHP version 5. In fact, the recommended version is also PHP 7.4. After all, PHP 7.4 is known to provide support for more than half of WordPress sites. So, this change is not only to keep up with the changing times but also to improve the security and speed of the website.
Image Loading Gets a Boost
Secondly, there's some cool news about image loading. In WordPress 6.3, images will load faster thanks to the new fetchpriority attribute. Basically, this feature asks the browser to load an image quickly. Also, developers will now get an improved way to deal with the lazy loading of images. So, what does it hold for the users? Basically, this indicates that the web pages will not only pop up fast, but it can make more happier clients!
Embracing New HTML 5 Attributes
Third, here's something interesting. WordPress 6.3 has added support for async and defer, two HTML 5 attributes. These attributes help browsers download JavaScript more efficiently. In simple terms, they make websites run smoother and faster. And who doesn't love a speedy website, right?
A New Development Mode
Fourthly, WordPress 6.3 introduces a new development mode. This mode is like a special setting for different types of development work, whether it's for the core WordPress system, plugins, themes, or everything combined. It's like having a personalized workspace tailored just for you!
More Goodies for Developers
Lastly, WordPress 6.3 hasn't forgotten the little things. From new ways to use templates to improvements in caching and even a new Block Selectors API, this version is packed with features to make our developer lives easier.
To wrap things up, for the developers, the WordPress 6.3 update is a treasure chest of new tools and features. Whether you're building a simple blog or a complex eCommerce site, this latest version promises to make your work smoother and more efficient.
Check Release Notes
Well, for a comprehensive understanding of this latest WordPress version release, it's highly recommended to refer to the release notes and field guide. The release notes are available on WordPress's official website.
How To Check Your Current WordPress Version?
In total, there are more than 550 WordPress versions in the market (both major and minor). With the latest WordPress version release, 6.3., the major release count stands at 46.
If you are a WordPress website stakeholder, knowing your WordPress version is essential for various reasons. For instance, older versions are prone to security breaches.
Similarly, when you know about the version of your WordPress website, you can ensure whether your site is compatible with the latest plugins and themes or not. Here are some straightforward methods to determine your site's current WordPress version. Let's have a look into each of them.
Check Your WordPress Version Via Admin Dashboard
In order to check your site's current version from various places within the admin dashboard. You will need to follow the steps:
Log in to your WordPress Dashboard.
Navigate to the "At a Glance" section, typically located on the top left of your dashboard.
Your WordPress version will be displayed here.
Alternatively, scroll down to the bottom of your dashboard. The version number is often mentioned in the footer.
Check Your WordPress Version Via Page Source
In order to check your site's current version via Page Source, try these steps. They are:
Open your WordPress website in any browser.
Right-click on the page and select "View Page Source."
Use the browser's search function (usually Ctrl + F or Cmd + F) and type in "generator."
If the generator tag is enabled, it will display the WordPress version.
Check Your WordPress Version Via RSS Feed
To check the latest WordPress version of your site, you can try this quick hack.
Visit your WordPress website.
You will need to edit the URL and add "/feed" at the end.
Then simply press Enter.
In the feed, search for the term "generator." Here, you will find about the WordPress version used by your site.
Check Your WordPress Version Via Theme File Editor
Another way to check if your website is having the latest WordPress version or not is as follows:
Go to your WordPress dashboard.
Click on Appearance > Theme File Editor.
Locate and click on the "functions.php" option under the Theme Files.
The version might be mentioned in the comments or the code, depending on the theme's developer.
Remember, for security reasons, some website administrators might choose to hide the WordPress version. If you can't find the version using the methods above, it might be hidden intentionally.
Download WordPress Latest Version, WordPress 6.3
Do you want to download the latest WordPress version? Yes! Well, it's pretty simple. You can download it from the official site of WordPress or by visiting WordPress.org.
Alternatively, you can log into your WordPress Dashboard, then click on Updates > Update Now. Voila! You are done! Once you update to the latest WordPress version, you can easily enjoy the new features that come with it.
In case, you are finding it difficult to update WordPress current version from the Dashboard, eWay Corp team can guide you through the steps.
Important Pointer: Just like every major WordPress update, make it a point to back up your database and site files before starting the installation. Once you have backed up all necessary data, you can download the WordPress latest version, WordPress 6.3.
WordPress Versions: Key Differentiators
Take a look into some of the key differentiators.
| | | | |
| --- | --- | --- | --- |
| Feature/Aspects | WordPress 6.1, Misha | WordPress 6.2, Dolphy | WordPress 6.3, Lionel |
| Named After | Mikhail "Misha" Alperin, a Soviet-Norwegian jazz pianist | Eric Dolphy, an American jazz musician | Lionel Hampton, an American jazz musician |
| Release Date | November 1, 2022 | March 29, 2023 | August 8, 2023 |
| Focus | | Improving Site Editing Experience | Polishing Up Customization Features & UI |
| Contributors | Over 790 Contributors from | Over 600 Contributors from 50 countries | Over 650 Contributors from 52 countries |
| Site Editor | Focuses on improving design tooling consistency across core blocks | Features a completely revamped interface | Introduces a streamlined workflow for editing content, templates, and patterns together |
| Design Tools | Introduces fluid typography for adaptive font sizes across different viewports | | Expands design tools for more customization capabilities |
WordPress Versions & Notable Features
Now, let's take a look into the notable features that were introduced into each WordPress version.
| | |
| --- | --- |
| WordPress Versions | Notable Features |
| WordPress 5.0 | New Block Editor New Default Theme: Twenty Nineteen |
| WordPress 5.1 | Improved editor Site health Multisite metadata New JS build processes |
| WordPress 5.2 | 13 new dashboard icons PHP error protection Accessibility updates Plugin compatibility checks New body tag hook |
| WordPress 5.3 | 150 new features and improvements in the Block Editor New design tools New Default Theme: Twenty Twenty Admin Email verification PHP 7.4 Compatibility |
| WordPress 5.4 | Two new blocks Clearer block navigation Ability to add custom fields to menu items |
| WordPress 5.5 | New sitemap Lazy loading Auto-updates for Plugins and Themes New block patterns Inline image editing |
| WordPress 5.6 | Greater layout flexibility New Default Theme: Twenty Twenty-One Built-in patterns REST API (Application Programming Interface) authentication with Application Passwords PHP 8 Support |
| WordPress 5.7 | Block Editor changes New color palette One-click switch from HTTP to HTTPS New Robots API |
| WordPress 5.8 | Widgets management with blocks Page structure overview Images styling and colorization WebP support |
| WordPress 5.9 | Full site editing New Default Theme: Twenty Twenty-Two Personal paintbox Improved block controls Theme.json for child themes |
| WordPress 6.0 | Improvements in full site editing Improved template browsing experience Web Fonts API Enhanced navigation blocks Alternative Global Styles New hooks |
| WordPress 6.1 | Flexible typography and spacing Streamlined block editing with content-only blocks Enhanced block types Improved block editor with additional features New and improved building tools Twenty Twenty-Three theme improvements Developer-focused changes to the platform |
| WordPress 6.2 | Removal of the 'Beta' label from the Site Editor Improved template and template parts preview Division of block controls into "Styles" and "Settings" Introduction of distraction-free mode Color-coded labels for template parts and reusable blocks Enhanced navigation for menus Simplified block pattern insertion |
| WordPress 6.3 | Site Editor Integration Block Theme Previews My Patterns for Block Reusability Command Palette for Faster Navigation New Design Controls Style Revisions for Design Changes Footnotes Block for Annotations Details Block for Show/Hide Content Performance Improvements (170+ updates) Accessibility Enhancements (50+ improvements) |
Latest WordPress Version Celebrates Global Collaboration
We know well that behind every great product lies a tapestry of diverse minds and hands. The same goes for the latest WordPress version release is a testament to this global synergy.
Check Out the Global Effort Behind the WordPress Latest Version Release!
As we unwrap the magic of WordPress 6.3, it's crucial for us to recognize the global effort that fuels this magnificent innovation. From developers in Europe to designers in Asia, the collaborative spirit knows no bounds.
As a matter of fact, the latest WordPress release saw contributions from over 650 individuals spanning 52 nations. This vast network ensures that the platform isn't just technically sound but also culturally rich and diverse.
Introduction to the "Get Involved" Initiative
It's a known fact that WordPress is keen on fostering a collaborative spirit. Hence, the "Get Involved" initiative makes an entry. This new tab, introduced in the latest release, serves as a beacon for newcomers, guiding them on how they can contribute to the WordPress ecosystem. Whether it's coding, design, or even content creation, there's space for everyone.
Furthermore, this initiative is not just about expanding the community; it's about making sure every voice, no matter how small, is heard and appreciated.
In conclusion, WordPress's latest release is more than just features and codes; it's a celebration of global collaboration and unity.
In a Nutshell
WordPress 6.3 is officially out. Remember, WordPress 6.3 "Lionel" is not just another update; rather, it's a milestone in the journey of WordPress. The WordPress latest version not only comes packed with a plethora of new features, and performance enhancements but also keeps a complete focus on community involvement.
It won't be wrong to say that this current WordPress version completely sets the stage for the future of website creation. From this latest release, one thing is pretty clear — WordPress is committed to delivering an unparalleled experience to its vast user base.
Conclusion
Now it's time to reflect on what we've discovered and what it means for all of us. Let's wrap things up!
Firstly, let's take a quick trip down memory lane and recap the major changes in the WordPress latest version, WordPress 6.3. From enhancements in the Site Editor to the completion of Phase 2 of the Gutenberg project, this WordPress update is packed with a lot of new features.
So, what do these changes mean for the WordPress community?
Well, it's going to be a new chapter of your favorite book. With WordPress 6.3, we're going to move forward, explore new territories, and grow together.
It won't be wrong to say that WordPress current version is going to become more user-friendly, powerful, and creative. Whether you're a professional developer or just starting your blogging journey, WordPress latest version, WordPress 6.3 is here to make your experience more enjoyable and efficient.
Happy to Help
If you need any help with the WordPress latest version update, you can just give our professionals a call.
About the Author
Mansi Pragya, a seasoned Team Lead, boasts an illustrious career rooted in WordPress CMS mastery. With a B.Tech in Computer Science, Mansi's expertise spans front-end and back-end technologies, including HTML, CSS, JavaScript, and PHP. As a certified AWS Cloud Practitioner and BigDev for BigCommerce, she has a diverse portfolio, specializing in WordPress-based educational, informative, eCommerce, and non-profit websites. Beyond her technical acumen, Mansi excels in client communication and project management. When away from the coding world, she finds solace in music. To know more about her, visit her LinkedIn profile.