Hey, WordPress fans! Are you aware that WordPress, one of the most popular Content Management Systems, is leveling its playing field? How? Simple, by launching its latest version, i.e., WordPress 6.3. Presently, WordPress 6.3 is accessible through the beta version. However, on 8th August 2023, an official release of WordPress 6.3 is expected.
The most significant aspect of the upcoming WordPress 6.3 update is that it will be packed with outstanding features. This is expected to make websites even better. Plus, WordPress 6.3 aims to introduce a slew of enhancements that will optimize LCP and load websites faster.
Well, these analyses and feedback are based on the analysis of the WordPress community. As a matter of fact, WordPress seeks to boost LCP performance and elevate the user experience.
Sounds interesting? Let's dive in and discover what WordPress 6.3 has in store. But before that let's check out WordPress's evolution.
A Brief Overview of WordPress's Evolution
WordPress started as a simple blogging tool in 2003. As we move forward, we get to see that 810 million websites are already on WordPress, which accounts for 43.1% of all websites on the internet. In fact, WordPress holds 63.1% of the CMS (Content Management System) market share.
Furthermore, 61.2% of WordPress users are currently using the latest version of the software, i.e., WordPress 6.2. (Source: Colorlib)
It is not only limited to blogging anymore. In fact, major companies are building their websites using the WordPress platform. To put it simply, the WordPress platform has expanded, modified, and developed to meet the ever-shifting needs of the online world.
Staying Updated with the Latest WordPress 6.3 Version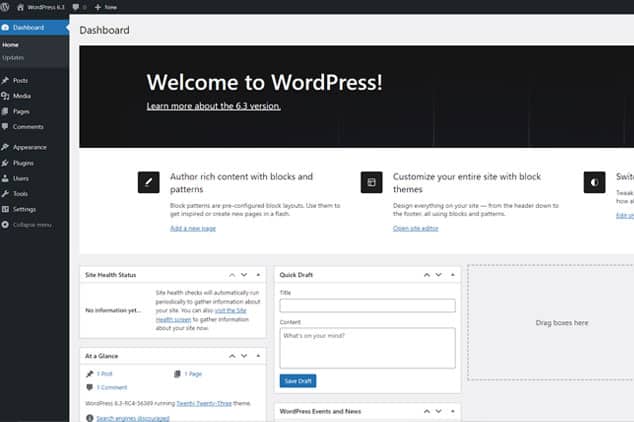 Why should I bother updating? You might be having this question in mind. Well, consider driving a dated vehicle that hasn't received maintenance in a while. Even if it might still function, you won't get greater fuel economy, smoother rides, or cutting-edge safety features.
Similarly, every WordPress update brings along improved performance, enhanced security, and exciting new features. For instance, in the latest WordPress 6.3 version has introduced tools that make website designing a breeze!
Moreover, studies show that WordPress websites running outdated software are more vulnerable to security threats. So, by keeping your site updated, you're not just getting the latest features but also ensuring it's safe and sound. (Source: Raidboxes)
In conclusion, in this fast-paced digital era, staying updated means staying ahead!
The Buzz Around WordPress 6.3
Imagine the scenario. You are browsing through your WordPress dashboard and pondering, "If this feature was a bit more intuitive"? Well, your wish might have just been granted! It will be a significant change.
In fact, the WordPress 6.3 update is coming packed with innovative features and enhancements. This update will not only redefine your website-building experience but also make the process of website management a delightful one.
Let's dive in as we unpack the most exciting features of this update and how they can elevate your WordPress 6.3 journey.
WordPress 6.3: Final Major Release of Phase 2 of the WordPress Roadmap
Firstly, WordPress 6.3 isn't just another regular update; it's the grand finale of Phase 2 in the WordPress journey. Think of it as the season finale of your favorite show, wrapping up all the exciting storylines.
In fact, this phase has been all about refining the user experience!
Significant Improvements That One Can Expect
As a matter of fact, there are over 455 million WordPress websites across the globe. So, going by the vast user base, it's simple that every update needs to be top-notch.
Merging of 10 Versions of the Gutenberg Editor into the Core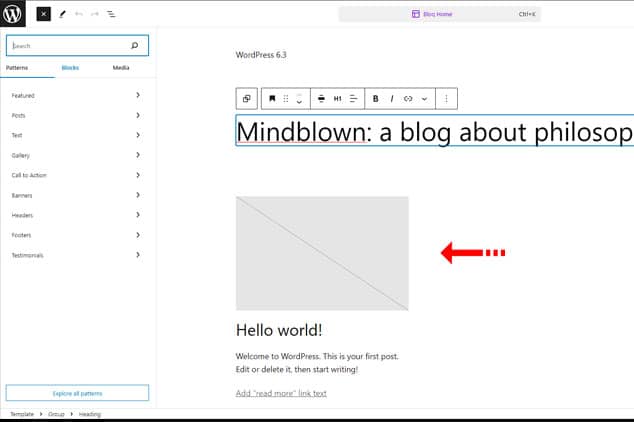 Well, WordPress 6.3 has merged not one, not two, but ten versions of the Gutenberg plugin into its core. Imagine all the features, improvements, and tweaks from these ten versions coming together in harmony. Sounds impressive, right?
Site Editor
Moreover, the Site Editor has undergone a massive transformation in WordPress 6.3. For instance, if earlier you felt like you were navigating a maze while editing your site, now it's more like a walk in the park.
Now, WordPress users will get to see the editor being more intuitive, and user-friendly. Moreover, the latest WordPress version is packed with features that will surely make website building a breeze.
In fact, it won't be wrong to say that the latest version of WordPress is more than just an update; it was a revolution. So, whether you're a beginner or a pro, there's a lot to discover and enjoy in this version upgrade. Stay tuned as we delve deeper into its features.
Sneak-Peak of Major Upgrades in WordPress 6.3
In the remainder of this post, we'll dive deep into the fresh WordPress 6.3 features. So, buckle up, because we're about to unpack all the latest features and tweaks that's expected in the latest version of WordPress!
1. Site Editor
Revamped Navigation Bar
New Command Palette
Simplified Page Editing
Patterns

Managing Patterns in Site Editor
Learn about Curated Patterns

New icon in Site Editor to View Page in New Tab
Caption Styling
Preview Styles from the Style menu on Site Editor
2. Blocks
Image Block Settings Enhancement
Cover Block Styling Got Improved
Spacer Block Settings Upgraded
Details Block
Footnote
Added Margin Control
Added Block Spacing Feature in Columns
3. Other Tweaks
Updated Icon for Responsive Mode
Featured Image Settings Enhancement
Revert Changes with Revision History
Live Block Theme Preview
Improved Padding and Margin Controls
Distraction Free Mode
Top Toolbar Improvement
Copy Block Option Renamed
Detailed Overview into the Key Improvements in WordPress 6.3
Let's take a quick rundown of what WordPress 6.3 brings to the table. We've spotlighted the top WordPress 6.3 features that promise to make your user experience even better.
Site Editor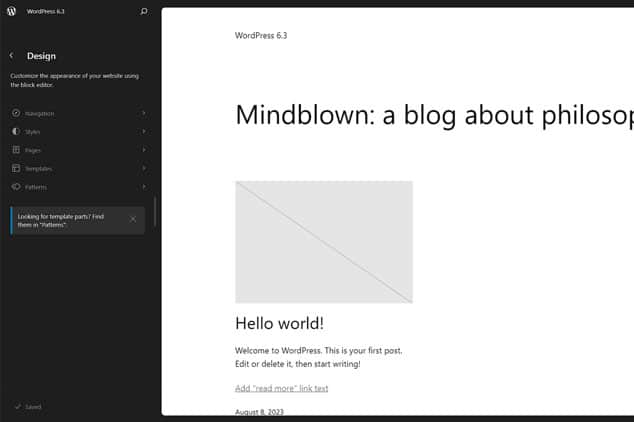 The site editor is getting a major upgrade. You can now easily navigate and select the specific pages, patterns, styles, and menus that you want to edit. To be more specific, it's like having a map of your site right at your fingertips!
Do you want to know more about the enhancements and other significant changes brought to Site Editor in WordPress 6.3? Yes! Read on!
Revamped Navigation Bar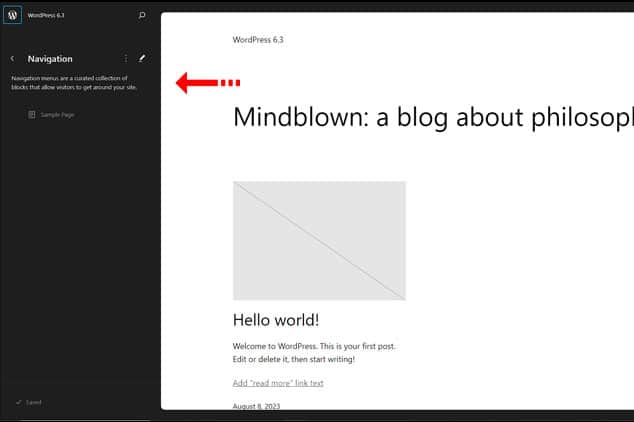 In the previous WordPress 6.2 version, a handy navigator was added to the site editor. This made it a breeze for users to pick the specific template or template part they wanted to tweak.
Now, with the forthcoming WordPress 6.3 update, this navigator is getting a major upgrade, giving users the flexibility to choose not just templates and template parts, but also pages, styles, patterns, and navigation menus.
This advanced navigation feature is set to make the editing process even more streamlined and give end users an increased degree of control over the customization of websites.
New Command Palette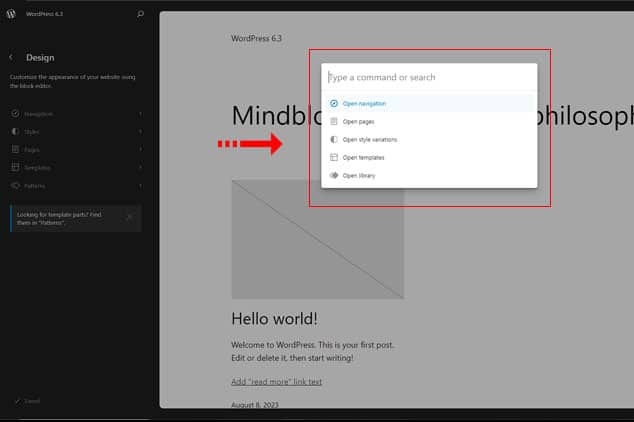 The upcoming WordPress 6.3 version is bringing a powerful new feature to the table – the Command Palette.
With this feature, users will be able to easily navigate to any specific pages or templates, and template sections.
So, to get started, users must press CTRL + K on their keyboard (for Windows) or Command + K (for Mac) and input their query. Once the query is placed, then it's done! The command panel is going to display the templates, blocks, posts, and more.
As a user, you can easily select an item from the results, and it will open instantly in the web page editor. Thus, making it easy for quick actions. You can also open the command panel by clicking the search icon at the top.
Simplified Page Editing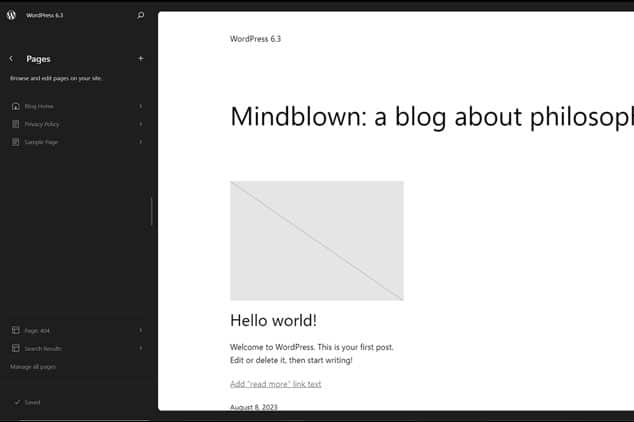 The site editor is introducing a user-friendly feature that makes it easy to select "Pages" directly from the editor navigation menu.
When a user clicks on the "Pages" option, they will now get to see a helpful list of their most recently edited pages. This, in turn, will allow them to quickly pick up where they left off. Thus, saving their time and effort in navigating the site.
Create a new page and start editing it in the easy page editor by clicking the "+" button.
Patterns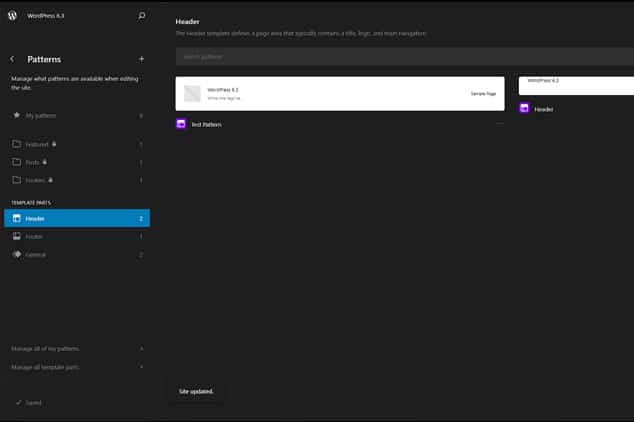 Coming to patterns, two improvements can be seen. They are:
Managing Patterns in Site Editor
This version unveils a more user-friendly and improved way to handle patterns in the site editor. Now, all your patterns are easily accessible within the site editor.
To view the available patterns, click on "Patterns." Here, you'll find both Synced and Unsynced Patterns.
Unsynced Patterns are flexible patterns that can be inserted and altered at any time as per your needs. Any changes made to them won't affect the original pattern.
Synced Patterns, previously known as Reusable blocks, can be used across the entire website. Any changes made to these patterns will modify the original pattern. All your reusable blocks will now fall under this category and appear here.
To create a new pattern, simply click on the '+' button in the patterns menu at any time.
For managing your custom patterns, access the sidebar and click on 'Manage my Custom Patterns.'
Learn About Curated Patterns
With the introduction of the "Curated" filter in the pattern directory, users can now easily distinguish between Core-bundled and community-contributed patterns.
New Icon in Site Editor to View Page in New Tab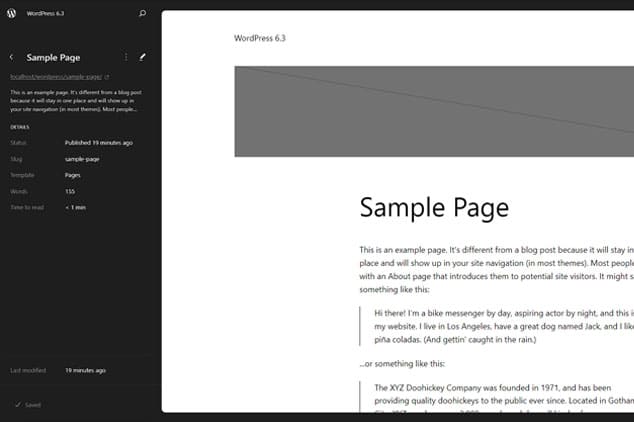 Great news! The site editor now allows you to preview your website directly. A handy new icon next to the website name on the left side lets you effortlessly view your website in a new tab. This fantastic addition not only saves you time but also enables you to check the front end of your website right from the site editor. How convenient is that!
Caption Styling
In WordPress, theme authors will have the ability to design custom styles for the Caption elements directly from theme.json. Once these styles are added, they are going to become accessible in the Styles interface, empowering creators, and users to customize captions effortlessly without the need to modify any code.
Preview Styles from the Style Menu on Site Editor
In the Styles menu, you can easily explore style variations in browse mode. This allows you to preview the different available styles, apply one you like, and make any desired customizations.
Blocks
Blocks are getting better too. Now, you can easily customize the size of your images while keeping their original shape. Plus, you can add artistic effects to your cover images and arrange your content in different ways with the improved Cover block.
And that's not all. There's a new Details block that lets you hide or show different types of content. And there's a new Footnotes block that makes it easy to add notes and references to your posts.
Now let's dig into the details.
Spicing Up Image Block Settings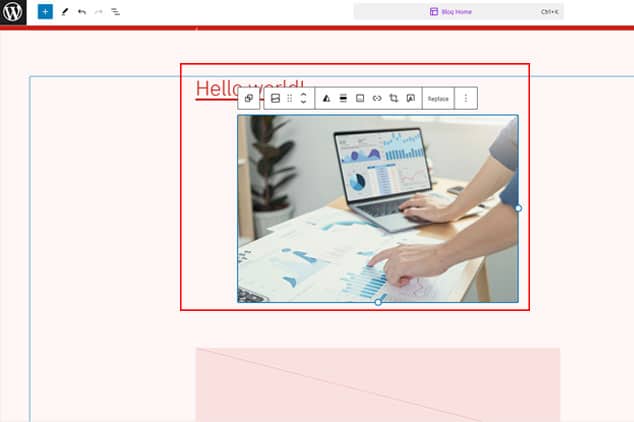 Well, with the latest WordPress 6.3 update, you'll get to play around with the aspect ratio of your images. This cool feature lets you tweak image sizes while keeping their original shape intact.
So, what's the big deal about it? Well, your images will always look their best, no matter the size, giving your website a polished and consistent look.
Jazzing Up the Cover Block
Hold onto your hats because WordPress 6.3 is taking the Cover block to the next level. Just like the Group block, you can now pick from a variety of layout options for the Cover block, giving you more creative freedom with your content.
And there's more! The Cover block is getting a splash of color with duotone filters. This means you can add some artsy vibes to your cover images. Plus, there are even more design choices for the text inside the Cover block.
Revamped Spacer Block Settings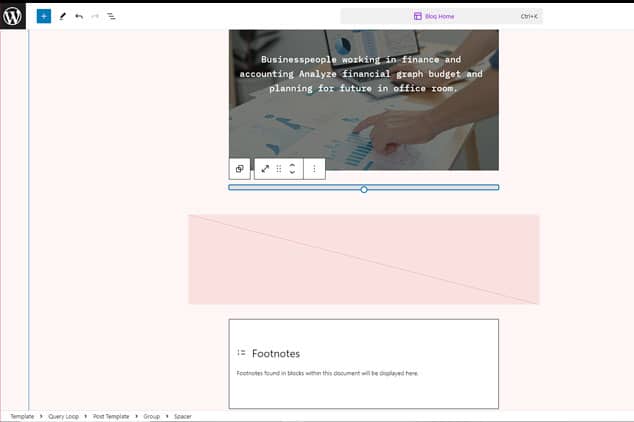 The Spacer block is getting a makeover! Now packed with fresh spacing presets, theme creators can fine-tune height adjustments, ensuring perfect spacing throughout.
Meet the Details Block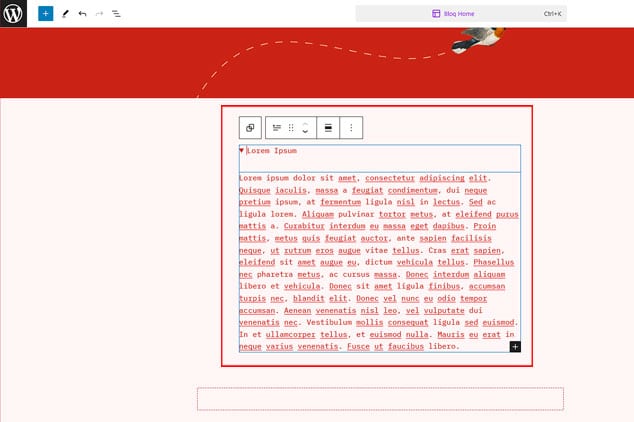 Say hello to the brand-new Details block in WordPress. This handy block lets you show or hide different kinds of content, like long texts, code snippets, or even spoilers.
It's divided into two parts. One consists of the Details Summary; and the second one is the Details Content. While the former is always on display, for the latter users can open or close with a simple click.
Want to give it a try? Just pick the Details block from the block list or type its name (/details) after you've started a new Paragraph block and hit the forward-slash ("/") key.
Introducing Footnotes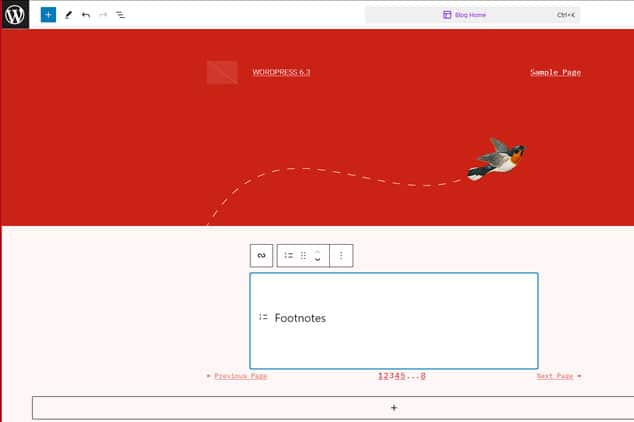 WordPress is rolling out the nifty Footnotes block, making it a breeze to add and format footnotes. It's a game-changer for adding extra info to your content. Instead of adding it like a regular block, you highlight the text you want to annotate and pick More > Footnote from the dropdown.
Boosted Embed Block: Now with Margin Control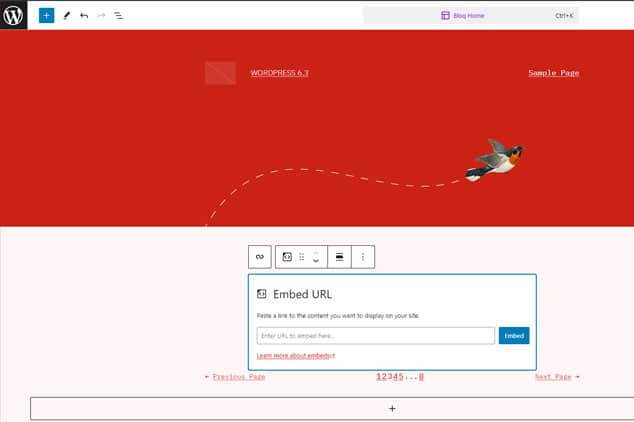 The embed block just got an upgrade! Now, it comes with dimension controls, offering users even more customization options. In other words, it's now equipped with margin controls, allowing you to define the space around your embedded content. This means you get to decide how much space you want around your videos, images, or other embedded media, ensuring they fit perfectly within your content layout.
Column Block Gets an Upgrade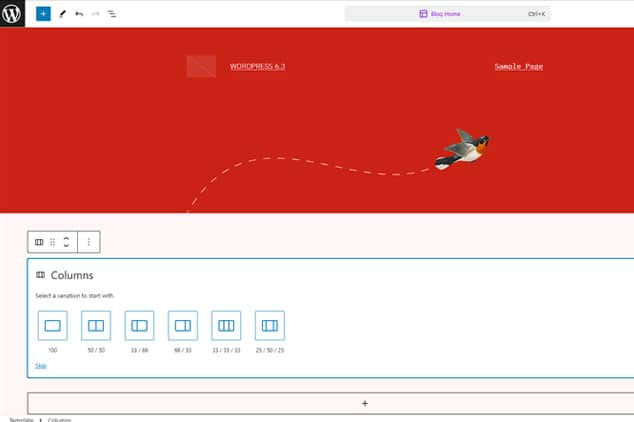 Ever felt the need to adjust the space between your columns? With WordPress 6.3, your wish is granted! The Columns block is stepping up its game with block spacing controls. Located conveniently under the dimension's menu, you can tweak the space between columns to your heart's content, ensuring your layout is just right.
In a nutshell, WordPress 6.3 isn't just about new blocks; it's about elevating your website game. So, the next time you're crafting a post, give these new blocks a whirl and watch your content shine!
Other Cool Changes
There are also some other neat changes that you'll love. For example, there's a new icon for the responsive mode that makes it easy to switch between different preview modes for different devices. And there's a new feature that lets you undo changes to your posts and pages.
Preview Themes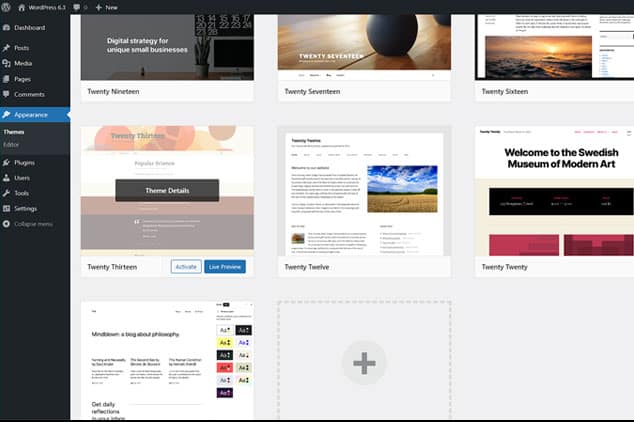 Plus, you can now preview block themes without activating them on your site. And there are improved controls for padding and margins, a distraction-free mode for focused editing, and a streamlined top toolbar.
A Fresh Icon for Responsive Mode Viewing
Say hello to a shiny, new icon tailored for the responsive mode. This little gem lets users effortlessly toggle between previews for different devices, making the user experience smoother than ever.
Revamping Featured Image Settings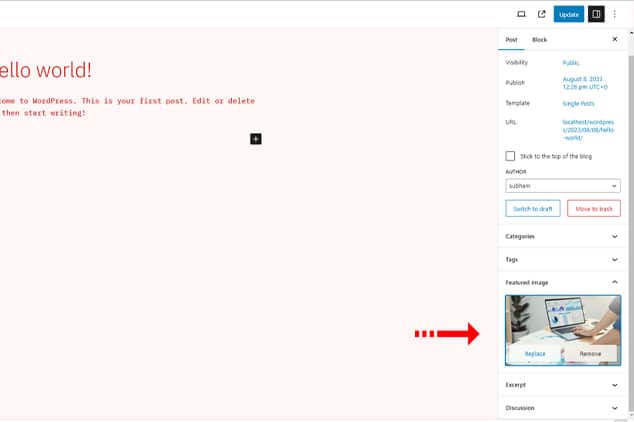 With WordPress 6.3, when you want to "Replace" or "Remove" your featured images, you'll see these options as an overlay right on the image. This tweak not only looks sleek but also makes managing your featured images a piece of cake. Changing or ditching your featured images has never been this straightforward!
Undo with Ease Using Revision History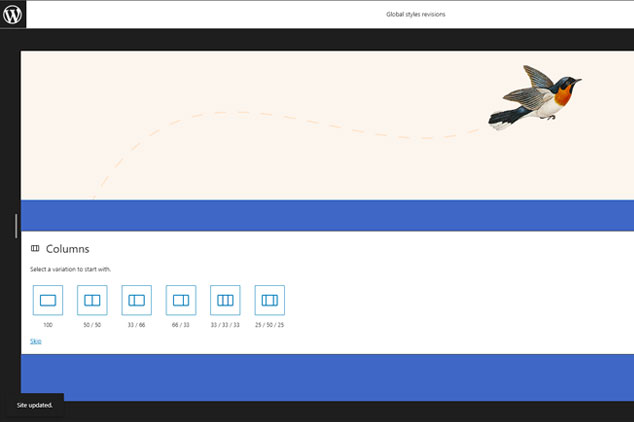 Ever wished you could hit the undo button on your theme styles? WordPress has got your back! Known for its handy Revisions feature for posts and pages, this gem is now expanding to the site editor styles. So, if you've made changes to your theme styles and are having second thoughts, just head over to the Styles panel, click on 'Revisions', and choose 'Revision history'. Voila! You're in control again.
Live Preview for Block Themes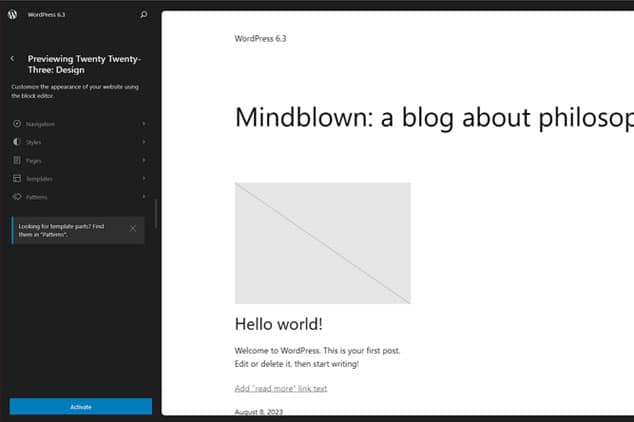 While WordPress already lets you preview classic themes without making them live, the 6.3 update is taking it up a notch. Now, you can get a sneak peek of block themes right within the editor. Curious to try it? Just go to Appearance > Themes and hit "Live Preview" on any block theme.
Streamlined Padding and Margin Controls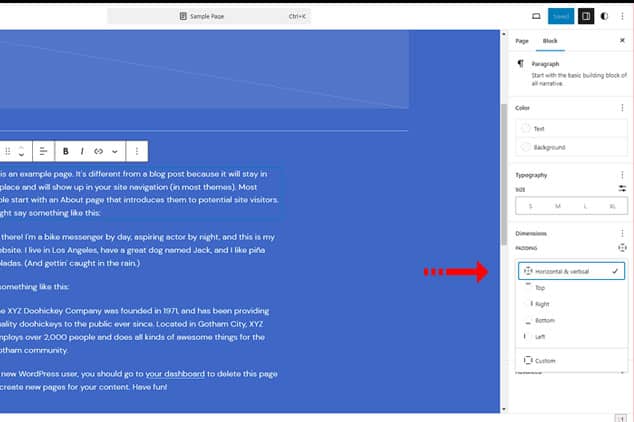 Remember the days when adjusting padding and margin felt a bit clunky? Well, those days are gone! With WordPress 6.3, these controls are getting a sleek makeover. Instead of taking up a ton of space, they're now more compact and user-friendly. Adjusting your site's look just became a breeze.
Dive Deep with Distraction-Free Mode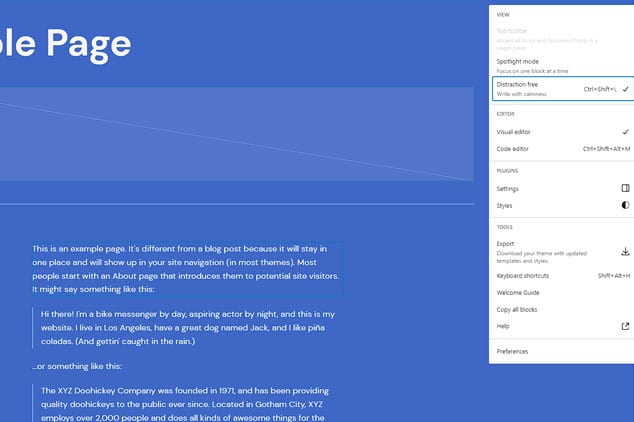 Well, the Distraction-Free mode, which was once exclusive to post and page editors, is now making its grand entrance to site editor. Turn it on, and everything else fades away, leaving you with a pure, focused editing space.
To activate this WordPress 6.3 feature, you will need to head to the site editor's options panel. Then simply switch on Distraction-Free mode and immerse yourself in an uninterrupted editing experience.
Top Toolbar Gets a Facelift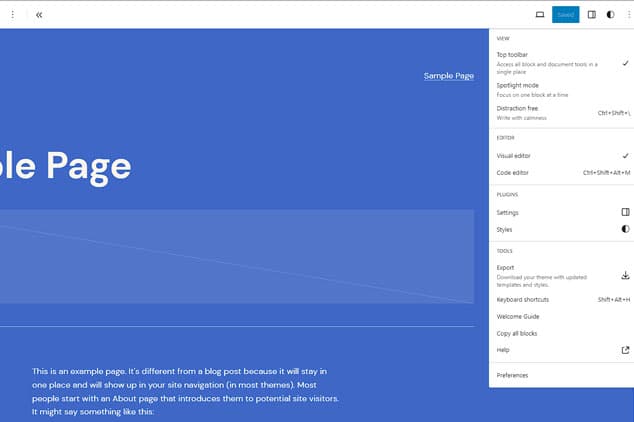 The "Top toolbar" in the editor has been spruced up in WordPress 6.3. Instead of adding the block toolbar on a separate level, it's now neatly integrated into the main top panel. This change not only looks cleaner but also saves precious screen real estate.
Simplifying the Copy Block Option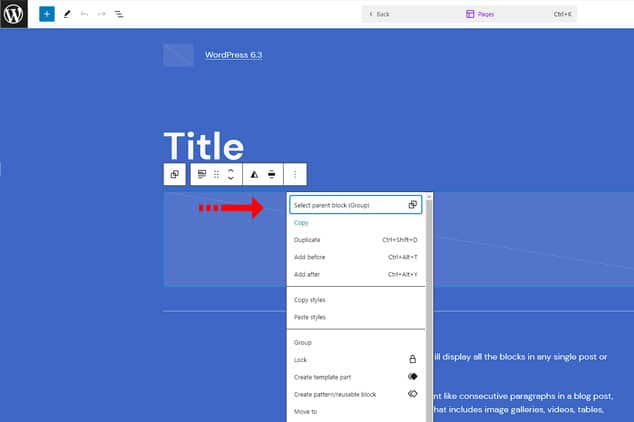 Finally, WordPress 6.3 is all about keeping things simple. That's why the option to copy a block has been renamed to a straightforward "Copy." No fuss, just clarity!
These are some amazing tweaks and improvements that one can expect in WordPress 6.3 version.
How These Changes Can Benefit Developers and Website Owners Alike?
Now, while these updates sound techie (and they are!), they're not just for the developers. Website owners, listen up! A smoother development process means quicker website builds and fewer hiccups along the way. And for the devs? Well, less time debugging means more time creating. It's a win-win! Imagine launching projects ahead of schedule and having more satisfied clients. With WordPress 6.3, that dream can easily become a reality.
In short, WordPress 6.3 is going to bridge the gap between website owners and developers. This, in turn, will ensure that everyone gets a slice of the pie. So, whether you're coding away or just looking for a stellar website, this update has got your back!
Why Upgrade to WordPress 6.3?
Wondering why you should upgrade to WordPress 6.3? Let's dive in!
Every new release of WordPress brings fresh fixes and features that the older versions just don't have. Naturally, you'd want to keep up and enjoy the best, right?
First, let's dig into the improvements that one might get to see in WordPress 6.3 features which are somewhat missing from its predecessor WordPress 6.2.
WordPress 6.2 vs. WordPress
| | | |
| --- | --- | --- |
| Feature/Aspect | WordPress 6.2 | WordPress 6.3 |
| Site Editor Navigation | Admin sections were reachable from different access points in admin menus. | Improved navigation with new entry points to different areas of the editor, providing a more consistent editing experience. |
| Styles | Introduced the Style Book feature. | Enhanced with style variations in browse mode, allowing users to preview and apply styles. |
| Pages | – | Allows creation of new pages directly from the Site Editor. |
| Templates | – | Improved process for creating new templates with a modal overlay providing a list of pages and block patterns. |
| Patterns | Known as "Library". | Overhauled block pattern architecture, now allows management of template parts and block patterns. |
| Block Pattern System | – | Introduced Synced patterns and Not synced patterns, with clearer distinction between the two. |
| Style Revisions in Site Editor | – | Exposes a revision history, allowing users to browse changes and restore previous versions. |
| Command Palette | – | New feature to run frequently used actions using commands, providing quick access to various tasks and areas of the Site Editor. |
| Additional Features in Site Editor | – | Includes Theme Preview, Loading State Improvements, Distraction Free Mode, and other UI improvements. |
| Performance Enhancements for Developers | – | Dropped support for PHP 5, enhancements in image loading, support for HTML 5 async and defer attributes. |
Now, let's talk about the latest version of WordPress, i.e., WordPress 6.3 that is focused on improving the Largest Contentful Paint (LCP) performance.
The 6.3 version promises to supercharge your site's performance and SEO (Search Engine Optimization) game.
Why should you jump on the WordPress 6.3 bandwagon? If you're wondering whether LCP is a big deal for both user experience and SEO rankings, then read on.
Boosted LCP Performance
Here's the cool part – WordPress 6.3 rolls out the 'fetchpriority' attribute. What does it do? It ensures the largest content element loads up swiftly, even before the browser figures out the layout. The result? Quicker load times and happier visitors.
Stepped-up Lazy-loading
WordPress 6.3 doesn't stop there. It refines the lazy-loading mechanism. With some tweaks and fixes, it's now smarter about when to skip the loading attribute for certain images, especially the LCP ones.
Tailored Image Loading
For the tech-savvy, there's a shiny new function called 'wp_get_loading_optimization_attributes()'. This lets developers play around and customize how images load, meeting specific needs.
Out with the Old
Some older functions related to loading optimization? They're taking a backseat. WordPress 6.3 nudges everyone to embrace the new 'wp_get_loading_optimization_attributes()' function for a smoother experience.
Thinking of sticking with an older version? Well, you'd be missing out on these fantastic upgrades. Switching to WordPress 6.3 means faster site speeds, more satisfied visitors, climbing those SEO ranks, and drawing in more organic traffic.
WordPress 6.2 vs. WordPress 6.3: What's Changed in Terms of SEO & LCP?
Let's break it down with a comparison table.
Here, we will highlight the differences between WordPress 6.2 and the spanking new WordPress 6.3, especially concerning LCP optimization and SEO:
| | | |
| --- | --- | --- |
| Feature | WordPress 6.2 | WordPress 6.3 |
| LCP Image Fetchpriority Attribute | Not on the menu | Say hello to the fetchpriority attribute for prioritizing LCP image loading |
| Lazy-loading Tweaks | Made some initial improvements | Added more fixes for reliable detection of when to skip the loading attribute |
| 'wp_get_loading_optimization_attributes()' Function | Made some initial improvements | Introduced this function for personalized image loading attributes |
| Customization Scope | Had limited options | Now, developers can tweak image loading attributes using 'wp_get_loading_optimization_attributes()' |
| Deprecated Functions | None to speak of | Some older functions are now overshadowed by the new one. |
With WordPress 6.3, both website owners and developers get their hands on top-notch LCP optimization tools, more customization freedom, and solutions for any lazy-loading hiccups. All this jazzes up SEO performance and user experience.
Thinking of leveling up? Upgrading to the latest WordPress 6.3 version is your ticket to fine-tuning your WordPress site and standing out in the bustling online world.
Why Stay Ahead of the Curve?
The digital landscape is ever evolving, and with platforms like WordPress continuously innovating, it's essential to keep pace. Falling behind can mean missed opportunities, especially when the updates directly impact user experience and SEO.
WordPress 6.3 isn't just another update; it's a significant leap forward. From the 'fetch priority' attribute ensuring your content loads in the blink of an eye, to the smarter lazy-loading mechanism, and the freedom for developers to customize image loading to their heart's content. And let's not forget the push towards newer, more efficient functions, leaving the older, less efficient ones in the dust.
What Does This Mean for You?
Whether you're a blogger, a business owner, or a developer, WordPress 6.3 offers tools and features that can make your online presence stronger and more efficient. Faster load times can mean lower bounce rates. Improved SEO can lead to better visibility on search engines. And a better user experience? This can lead to more engaged visitors and potential customers.
The Bottom Line
In short, WordPress 6.3 is more than just about aesthetics and its user-friendly features. Its aim is to make websites faster, more efficient, and developer friendly. So, whether you're a website owner or a developer, there's a lot of fun in this update!
Do you want to be notified about the latest version of WordPress 6.3? You can follow our blog page for more details. Or simply give our professionals a call.
About the Author
Mansi Pragya, a seasoned Team Lead, boasts an illustrious career rooted in WordPress CMS mastery. With a B.Tech in Computer Science, Mansi's expertise spans front-end and back-end technologies, including HTML, CSS, JavaScript, and PHP. As a certified AWS Cloud Practitioner and BigDev for BigCommerce, she has a diverse portfolio, specializing in WordPress-based educational, informative, eCommerce, and non-profit websites. Beyond her technical acumen, Mansi excels in client communication and project management. When away from the coding world, she finds solace in music. To know more about her, visit her LinkedIn profile.