Hey! Is your landing page optimized? Make sure to optimize it today! Remember unless you optimize the landing page, it will neither bring traffic to your website nor it will boost conversion. Even a minor tweak to the existing landing page design can make an enormous difference to the site. Well, the right website design can attract customers and drive more leads. And when a website gets more leads, it will drive more conversions. This is what every business looks forward to when they start a business.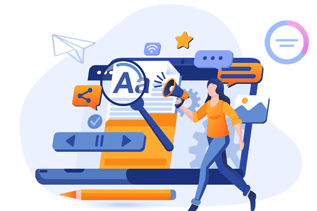 Landing Page: Know About
Yes, a landing page is an important component of a website. It is a standalone web page, specially created for the purpose of marketing or advertising campaign. The landing page is designed to drive prospects toward a site and compel them to take some action, such as making a purchase or subscribing to a newsletter.
We must remember that the main goal of a landing page is to get conversions, i.e., by turning prospects interested in your offer to turn into buyers. However, a landing page shouldn't be confused with a home page. The former is created with a specific aim in mind, like for any product promotion or for creating a buzz about an event or webinar registrations, and so on.
So, the moment a visitor lands on a landing page, they shouldn't be distracted. It must be remembered that if a visitor's experience on the landing page is poor then they might never visit the site again. This means even after investing a huge amount of money if a landing page fails to pull traffic, then the whole investment seems futile.
So, the truth is no matter how much you invest or are willing to invest in paid campaigns, like Google Shopping Ads campaigns they won't be of any use if you are having a poor landing page design.
Hence, just like other website pages, working on the website landing page design is equally important. In fact, a well-designed landing page can increase the effectiveness of a marketing or advertising campaign and eventually improve the conversion rate.
1. Does Landing Page Matter in Today's Age
It is big, yes. Well, it is a known fact that landing pages are a standard tool for acquiring and retaining customers. No matter what type of business you are running, the landing page should look good. Only then will it help businesses get an improved conversion rate.
The design of a landing page should be such that it offers end-users a smooth user experience (UX). Only then the visitors will convert into leads and might even become loyal customers.
To make that happen, a landing page needs to be optimized properly. This calls for implementing some good marketing and design hacks for the landing pages. It will help to attract customers, keep them hooked on the landing page for a long time and convert them to leads.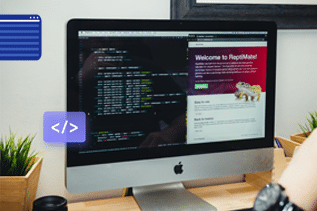 Good landing page design: What does it mean
Wondering what a good landing page design is all about? Or how it can help to improve the conversion. By good design, we mean creating an enticing page for the website visitors or the target audience. The design should be done in a manner that gets rid of all sorts of distractions and compels visitors to convert to buyers.
It is important to ensure that the landing page is designed for conversion. As a business owner, you might not have the required skills for designing a landing page that helps with conversions. This is where you can take the help of professional web designers for the design task.
Benefits of a Landing Page
Is there any need for a landing page? Or what are the benefits of having a good website landing page design? These questions are common to cross anyone's mind.
In this blog post only, you will get to learn about the benefits of a landing page. Apart from helping with improved conversions, the landing page proves helpful in the following ways.
1. Promote Product
The sole purpose of a landing page is to deliver a message to visitors. Hence, marketers can boost conversion through a specific marketing goal. It even allows testing the success of a particular product on the landing page.
2. Increase Credibility
It makes visitors feel the business house understands their problem and helps them in the best possible way. This is done through customer testimonials and various case studies. Thereby, the prospects start to feel confident about the business and trust it.
3. Improve Accountability for Campaigns
Another important benefit of a landing page is while running a campaign on the landing page for eCommerce, responsibilities can be assigned easily. The campaigns for the landing page channels can be made more specific. This, in turn, helps to better analyze the campaign's success.
4. First Impression Counts
As you know, the first thing that a visitor sees when they land on the page is the design. If the landing page design is cluttered and unappealing, they won't stick to the site and move forward.
5. Grabs Visitors Attention
A well-designed landing page is known to grab the attention of the visitors towards the most important message and the CTA button. This in turn ensures that the visitor takes the desired action.
It won't be wrong to say that the design of the landing page is crucial for the success of an advertising or marketing campaign. A badly designed landing page can cause visitors to leave the site without taking any desired action thus resulting in a high bounce rate.
On the other hand, a beautifully designed landing page can guide visitors through the conversion funnel and increase the chance of sales.
Basic Steps to Create a Landing Page Design with the Goal of Conversion
To create a conversion-oriented landing page, designers can use the SeedProd plugin. The SeedProd is considered the best landing page builder for WordPress. With this plugin, it is extremely easy to create beautiful landing page layouts that are perfectly optimized for sales and conversions.
SeedProd works perfectly with third-party tools and with Google Analytics and WooCommerce. To use this plugin, it needs to be installed and activated. Upon activation, the license key needs to be entered.
To create the landing page, you will need to go to SeedProd and click on Landing Pages. After that click on Add New Landing Page button. Once it is clicked, users will be asked to choose a template that can be optimized for conversion.
The selected template should contain a title and URL slug for the page. Well, some common landing page design blocks can be used. The design block is helpful for creating option forms, testimonials, FAQs, and so on.
Once the website landing page design is created through SeedProd, clicking on the Connect tab will integrate with popular email marketing platforms.
Next, on clicking the Page Settings, the default SEO (Search Engine Optimization) settings can be changed. This will allow adding Google Analytics, as well as header and footer scripts.
The page can be connected to the custom domain name. It is very helpful when one wants to create multiple landing pages for various regions. Once the landing page for eCommerce or any other website is complete, just save it and publish it.
Create and Optimize Landing Page Design: Is It All
Following up on the last section on creating a beautiful landing page for eCommerce sites or any website, it must be kept in mind that just creating an engaging landing page design is not enough for conversion optimization. Rather, a lot of things should be taken into consideration.
For instance, a good website landing page design should not be cluttery. Rather, it should be clean, and clear. Having multiple calls-to-action buttons is not at all a good idea. Instead, the design should contain one compelling CTA (Calls to Action) button.
One should keep in mind that if the goal is to capture email leads, then the option form will be the only action that needs to be taken for the landing page.
Landing Page Design: Understanding the Audience's Need
Understanding the needs of the audience is very important. This will help to create a landing page accordingly. However, before considering the best practices for website landing page design it is important to analyze the device's source of traffic.
Building a landing page based on the device from which people shop is the best way to start conversion research. Tools like Google Analytics help to discover where the traffic is coming from, and the device being used.
For instance, if customers for your eCommerce website come from mobile devices, you will need to optimize the landing page for eCommerce to ensure a great mobile experience. Similarly, if your site's traffic source is from desktops, then the landing page design should be such that it enhances the desktop experience.
Landing Page Design: Things to Know
A landing page design is meant for improving conversion. Conversion takes place only when a business can meet the needs of the target audience. To make sure a landing page succeeds, it is important to carry out the following tasks – user testing, analyzing the web traffic source, and copy testing.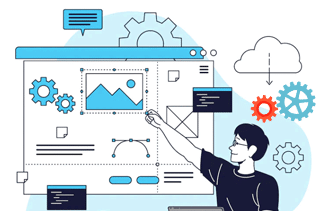 1. Basic Elements
It is important to ensure that a landing page has the following elements. They are:
Headline
Subheadings
Copy
Images and Video
Call-to-Action
1.1. Headline
A clear and compelling headline can grab the attention of visitors and properly communicate the value proposition.
1.2. Subheadings
The subheading should elaborate the headline. It should contain detailed information about the product.
1.3. Copy
A good copy of the landing page is extremely important. This helps to grab the attention of the prospects.
1.4. Images and Videos
Visual elements like images or videos can make a page look more appealing. It can also communicate the value of the product.
1.5. CTA
It should be clearly visible and tell visitors about the action they should take.
The landing page design should contain both visual and design elements. These two elements make up an optimized web page that converts visitors to customers and then repeats purchases. The guiding principles of a compelling landing page design are a simple layout, value proposition-driven copy, and high-quality product images.
Optimizing the landing pages is going to help businesses with improved conversion rates.
Landing Page Design: Best Practices for Landing Page Conversions
Wondering how to skyrocket your landing page conversion? If yes, then you should consider landing page redesign and optimization options. In this blog post, we will share some ways that will improve the conversions of the landing page by 2X or even more than that.
Let us go through it.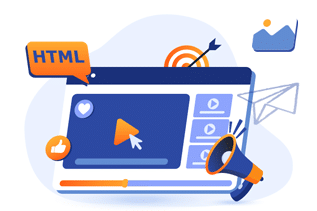 1. Determine the Goal of Your Landing Page
The aim of a landing page is to propel conversions. So, it is important to ask what type of conversions you are looking for. The most common goals are:
1.1. Building Brand Awareness
It involves growing the email subscriber list and building relationships with individuals. This can be done through content about your products or services as well as your brand that will result in loyal followers.
1.2. Sales
The aim of sales is to ensure prompt purchase by displaying certain products and allowing the end user to add the item to the cart or simply abandon the cart.
1.3. Lead Generation
It involves capturing the contact information of prospects who might be interested in the product/service. Members of the sales team should follow up with the prospects.
Once the goal of a landing page is decided, designing the landing page will become easy for anyone.
2. Keep Landing Page Text Minimum
A landing page is the focal point of a website. Hence, businesses might feel tempted to put a lot of information on the website.
But keeping too much text can be a sort of distraction. Hence, it is best not to add too much text to the landing page since people don't have much time to go through the entire text.
So as a part of the landing page design practices, it's best to avoid too much copy for the landing page. Keeping the text short will make it easy for the customers to find what they are looking for. Also, this will minimize the bounce rate.
2.1. Feature Content That Is Useful for the Audience
A good landing page design content is usually short and sweet. However, there is no definite word count for it. Rather, it might differ based on the type of content to be used for the landing page. The point is not to populate the home page but provide only that much content that will be useful for the audience.
2.2. Add Some Compelling Headlines
Whether you are designing a landing page for eCommerce sites or any other website, offering a powerful headline for the landing page is very important. An engaging headline not only draws the attention of the customers/visitors but also convinces them to read on.
However, a powerful headline need not be too long. Rather, it should be short and snappy. In fact, the headline should be inspiring enough to force visitors to take some action. For example, the Mailchimp headline not only evokes emotion but also inspires the reader.
3. Prioritize Above-the Fold Positioning
Remember to keep the most important information at the top of the page. Doing so will help you to ensure that no matter where the fold or the browser window ends, visitors will get to see the essential information that you want to offer.
Having said that, this does not mean that the website landing page design shouldn't have any content below the fold. The main goal is to keep vital information above the fold as it will grab the attention of viewers. However, keeping some information below the fold, such as the call-to-action button will ensure that people scroll down below. This is one trick to increase the conversion rate.
4. Declutter the Landing Page
A site that contains too much web content looks very cluttered. Do not make the same mistake for your landing page. Check if the website landing page design contains too many items or if there are too many images that might distract the attention of the visitors.
In case you answered yes, then you will need to declutter your landing page. A cluttered landing page can be confusing for visitors.
A landing page needs to be precise and concise. All sorts of distractions should be kept at bay and only important information must be present. Only then the audience will stay on the page. This, in turn, will drive more conversions.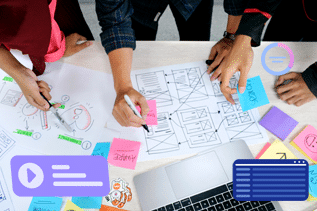 5. Make Landing Page Responsive
You must remember that people are not only going to visit a landing page for eCommerce from their desktops. Rather, customers might visit it from any kind of device, such as a smartphone or tablet. For this reason, it is important to make the landing page responsive.
Online purchases made from mobile devices are growing. Since mobile phones are becoming the main source of traffic for purchases, landing pages should be optimized for conversion. For this reason, most businesses have a mobile responsive landing page integrated into their website. Making the landing page mobile responsive ensures it looks good across all devices.
In the event, you are taking the help of landing page design service professionals, you don't need to worry about making the landing page responsive and mobile-friendly. The designers will make the mobile landing page a responsive one.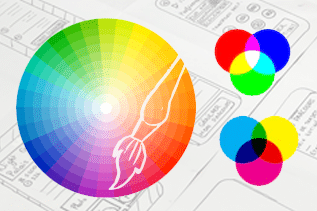 6. Picking the Right Colors
Another element that needs to be considered when considering the website landing page design for any type of business is the colors. Color psychology must be kept in mind when considering the colors of the website design. For instance, blue is always associated with trust and strength. So, financial brands usually use this color on their site. Similarly, green is used for ensuring harmony and strength. Hence, the green color is used by many fitness brands.
Well, understanding color psychology is important. It can evoke emotion in the mind of the audience and eventually bring them to the landing page. Basically, color psychology is the science of how it influences human behavior.
In fact, colors help to determine the purchase decision. For this reason, brands should be careful of the colors they chose for the logo or store display, and even for website design. Often brands communicate through their color choices,
Let us look at the Color Psychology Chart to get some idea.
Businesses can make good use of this color psychology chart to decide the color of their website's landing page. Also, it is important to ensure that the picked colors go well with the brand image.
6.1. Tips to Use Colors
Color symbolism should be considered when targeting different demographics. This is because different culture perceives colors in different ways.
Colors should be addressed from the perspective of marketing and psychology. Depending on the product and service, colors can be used for conveying the right kind of message.
The interpretation of color varies from gender to gender. Hence, there is no bulletproof solution for picking any color for the landing page design.
Use high to low colors for creating color contrast, which is directly associated with readability.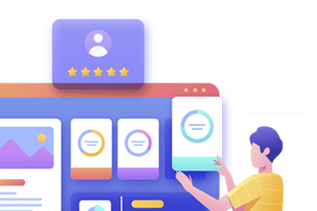 7. Trigger an Urgency
Another important website landing page design hack for boosting conversion of a site is to create a sense of urgency for the visitors. Instead of giving the visitors ample time to think about whether they should go for the brand or service or not, a sense of urgency must be created.
Whenever a sense of urgency is created, it will compel visitors to decide fast. This, in turn, will help businesses to get more leads that get converted to buyers. What could be better than using certain words like Grab Now, Fast, Don't Wait, etc., for the copy text, CTA, and more?
But another powerful way to create a sense of urgency is to add a countdown timer on the landing page. When a landing page is displaying a limited period offer with the amount of time left for the offer to expire, it will compel visitors to purchase the product or service before it runs out or ends.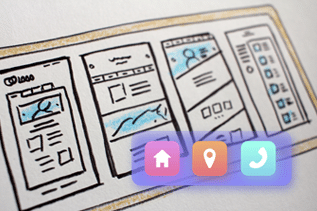 8. User-friendly Page
When considering a complete revamp of the landing page design, make it a point to keep the page very user-friendly. Whether one wants to navigate or wants to fill out a form, the process must be easy. Only when a process is kept simple, it helps with improved conversion. A neat and clean landing page with a short form will compel users to act instead of leaving the site.
9. Add Media to the Landing Page
If the landing page has the right number of images or videos it will persuade the visitor to take some action. They might click on the email subscription list or even book an appointment for a certain service. A great image helps to tell a story and even might demonstrate the product properly.
When displaying images, the images should be more instead of stock images. This will help to build the trust of the visitors and convince them to turn to leads. This, in turn, will help a business with conversion.
9.1. Incorporate Video
Similarly, a study has shown that landing pages with videos have more impact on the audience than landing pages with images. Videos ensure improved engagement and explain the products in a better way.
One of the best ways to improve conversions is to add a video to the landing page. Videos are not only engaging but offer in-depth information. So, if your landing page needs to offer certain information but you don't want to clutter it, then adding a video to the landing page design is the best option.
10. Improve Page Load Speed
Improving the page load speed can help with conversion. No one loves a slow website. In fact, studies have shown that delay in page load leads to a 7% loss in conversions, 11% fewer page views, and even a 16% decrease in customer satisfaction.
With the help of website speed test tools, like Pingdom or Google Pagespeed Insights, one can check how much time the website takes to load. If the load speed is very low, care must be taken to improve it.
11. Consider Adding Social Share Buttons
Another crucial tip for the website landing page design is adding social share buttons. If you want your potential visitors to share certain content with others, sharing the content is important. Only when content gets shared multiple times then it will help with increased traffic and more conversions
Adding Facebook or Instagram or Twitter buttons on the landing page can get people talking about the brand. Also, people might start sharing the content with others.
11.1. Integrate Social Media 
Imagine the scenario. Everybody visits the landing page, and it is a good sign. However, you want to share with others. Only then will it help to get more traffic and conversions. To make that happen, just create a social media page for the landing page. This will eventually help the page to get more traffic and ensure a smooth conversion.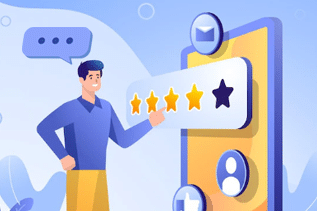 12. Add a Section for Customer Testimonials & Review
If you have an eCommerce store, make sure to add a testimonial and a review section. Reviews and testimonials of past customers can easily win the trust of prospective customers and convert them to leads or customers.
Whether you are running an eCommerce store or any other business, social proof is crucial. It is a psychological and social phenomenon that allows business prospects to look into the action of others and then decide their action.
For instance, customer reviews are social proof of the fact that many people have bought a product. Hence, the company can be trusted, or products are worth purchasing. After going through a few reviews customers might take the next action, i.e., purchase a product.
13. Offer A Clear CTA Button
Among multiple tips for landing page design, it is important to offer a clear and concise CTA button. The CTA button should grab the attention of the prospects and compel them to take some desired action.
To make a CTA button catchier, it is important to use a contrasting color for the button. This will make the button stand out. Similarly, the text should be written within the button.
One must keep in mind that the CTA helps to determine the goal or the outcome of the landing page. Accordingly, the CTA text must be used.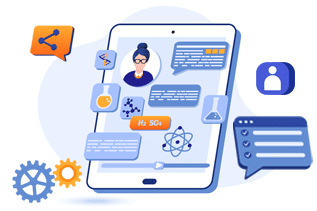 14. Adding Live Chat Feature
Customers often leave a site when they do not find the required information. Most often visitors look for some quick information. To help customers with that, adding a live chat section is usually helpful.
As a part of the landing page design tactics, setting up a dedicated team for live chat or customer support is always helpful. A live chatbot can be added to the website landing page design. It will help users to find answers to the questions they might be looking for when they land on the landing page.
Basically, starting a conversation is a great way to boost conversion. Traditional landing page UIs (User Interface) are gradually vanishing, and intuitive UIs are taking their place. A common example is chatbots. The chatbot can provide a mail id or phone number so that customers can reach out to the sales or support team from the landing page. Thereby, helping with conversion.
According to a study by Gartner, chatbots power more than 85% of customer service interactions. Most often the chatbots cut down the landing page cost-per-leads (CPLs) by 48% and also doubles the conversion rate and customer engagement.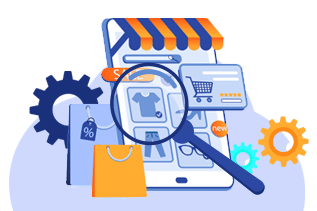 15. Use High-Quality Product Photos
The images present on the landing page for eCommerce are the only thing that a prospective buyer gets to see in the virtual world. Since a prospective buyer can't touch the products physically, good-quality images are required. A proper image will describe the brand to the consumers. This, in turn, will help with the conversion.
15.1. Optimize the Product Photos
Optimizing the product photos is a crucial part of the landing page design strategies. Remember to optimize the images for good page load speed and improved compatibility.
Smaller details need attention. It will be able to offer customers a smooth user experience. For reducing the image size, an image compressor tool like TinyPNG is recommended. When the image size is lowered it improves the load time. Similarly, adding borders helps to speak a lot about the product.
16. Offering Proper Product Description
A great way to improve the landing page design for eCommerce sites is to include proper product descriptions. The product description is going to be an important copy as it will tell us what your product is about.
Instead of jotting down the points in one place, try to offer the details in a uniform way. It can be evenly distributed next to the product image. For instance, the product description that we get to see on Amazon's website.
17. Keeping Landing Page Forms Short
Planning to add a form on your website's landing page? If you said yes, you have made the right decision. Since it helps to maximize conversion, provided there are only a few fields to fill. The secret to a good landing page design is to keep the form short.
When visitors are required to fill in fewer details, they are more likely to fill out a form instead of leaving the site. So, only important fields, such as name, address, and email are enough for a landing page form.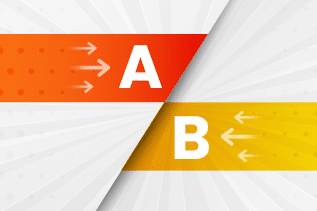 18. A/B Testing
From the perspective of landing page design service, A/B testing is extremely important. Why? As a website owner, one might think the website looks good or great. But a visitor might not feel the same.
So, when you are offering a landing page, it is important to check what is working, as well as what is not working, and accordingly make necessary improvements. Performing A/B testing is a great way to gather insights or analytic reports about the pages that are mostly visited by the visitors.
Accordingly, if a page gets fewer views or interactions, some elements might need to be changed, such as headlines, content copy, testimonials, navigation links, etc. The best way to choose the ideal landing page design is to take professional help on this matter.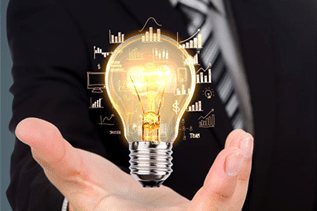 19. Convert Abandoning Visitors with Prompts
Cart abandonment is a common thing. A personalized message has proven to be highly successful in bringing back customers who have abandoned their cart midway. Creating an exit intent popup must be a part of the landing page design. This can ensure customers return and complete their actions, be it a purchase or filling in a form, etc.
20. Unobtrusive Branding
Brand remains the central thing of a website. It must be ensured that people remember your brand and engage with it. However, overt branding must be avoided as it might turn visitors away from the landing page. So, a proper balance between the branding elements and not overwhelming users with too many elements is very important.
21. Use of Whitespace
Whether you are designing your website or the landing page, there should be a proper use of whitespace. Whitespace is the area that surrounds the elements of the page. Proper use of whitespace creates a sense of openness and makes a page look less cluttered.
Well, it is extremely important to implement only time and tested landing page design elements to meet the overall goals. If the design elements are introduced without understanding the business goals, then the design will fail. Automatically, the site won't bring any amount of conversion.
So, the design elements and the practices should depend on the target audience and their needs. This calls for carefully considering the amount of information that needs to be present throughout the landing page instead of the header and footer pages.
Additional Landing Page Design Tips to Improve Conversions
Wondering what are some other landing page design strategies which if implemented properly can boost conversion? To know the answer, read on.
1. Create Campaign Specific Landing Page
Do you want to take your landing page in front of a digital audience? You might have thought of social media posts or Google Ads. But if you don't want to limit yourself to these marketing strategies, then you can create landing pages for each channel or platform.
This, in turn, will help to track the source of traffic for each channel. Accordingly, campaigns for the channel's landing page can be designed.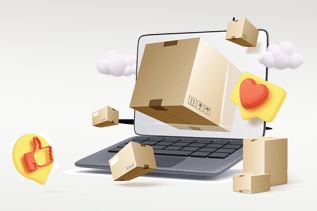 2. Encourage Conversion with Exciting Offers
All kinds of exit opportunities must be removed from the website. Something enticing must be offered to the visitors so that they don't leave the page. Rather, it will guarantee a high conversion rate.
For instance, offering visitors exciting offers in exchange for their email address or email subscription. Once the visitors are convinced, they should not be dissuaded by a long form. Rather, the landing page form should be short and simple.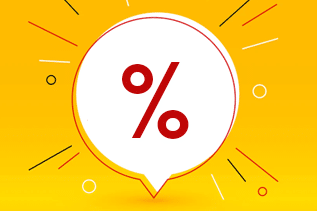 3. Incorporate Popups
One of the efficient ways to boost sales is to provide discount coupons and deals. They are an efficient way to boost sales. Customers love denying offers. So, displaying offers through popup tools helps with conversion.
An exit-intent popup tool can be used to study the browsing behavior of visitors. Accordingly, businesses can come up with the right deals. So, while incorporating the popups into a landing page design, the best design practices must be used. It will drive sales and boost sales.
4. Reduce Friction
Landing page design elements can make or break the business. Avoiding friction is especially important. It is something that might make people confused or prevent them from acting. Also, the design of a form should be such that it offers helpful information that is easily digestible. It is the job of the designer to make the website landing page design quite simple as possible.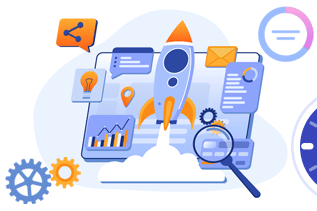 5. Optimize Landing Page for SEO
The search engine is the main source of traffic for websites. So, optimizing the landing page for SEO is especially important. It will help a site to rank high across search engines. With some available plugins in the market, it is extremely easy to optimize a site and its landing page for SEO.
6. Directional Cues
The principle of landing page design mentions that the landing page should be designed in a way that can guide users from sales copy to the CTA in a fluent manner, minus the distractions. In case, you can't offer directional cues visitors will leave the site without taking action. Remember, one-way ticket to a landing page is always the sole cause of increasing the bounce rate.
These are some sure-shot ways for improving the conversion rate of a website's landing page. Make sure to implement it properly to see the results.
Other Ways in Which Landing Page Design Helps
You must have worked hard on improvising the landing page design to improve conversions. Apart from conversions, it can also help with sale-oriented tasks, like:
Promoting new products
Increasing sales and leads
Growing subscriber lists
Capturing insights and data through forms
Professional Assistance Required
Landing pages have become a standard industry practice. Studies have shown that using landing pages helps to boost conversion by 2X to 3X times. But the landing pages must be designed properly. That's why hiring a professional company like eWay Corp for designing the landing page is important.
When they take up the task of landing page design services it can guarantee a truly optimized landing page with good user experience. This, in turn, will guarantee a higher conversion rate for businesses.
Final Thoughts
Millions of websites are out there. Each of them is vying for the attention of target customers. But how to make your site stand out from the rest? Or how to make people visit your page? For that, it is important to create a strong impression on the visitors minds within a few seconds of their landing on the site. Hence businesses should make it a point to design the landing page for eCommerce or other websites in a way that keeps the prospects engaged on the site for a long time and compels them to convert.