A high bounce rate is a clear sign that there is something wrong with the site's design. It is not meeting the expectations of the visitors. So, a close look at the website from the user's perspective is necessary.
This is when web designers usually find that the site's design is creating a high bounce rate. Consider improvising the design by following the website design tips is always the best bet. It will ensure the site is appealing and follows the latest web design trends for ranking and gaining the attention of the customer.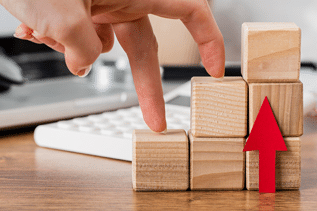 What is the Goal of Business Owners
The goal of almost every business owner is to get more traffic to their site and drive more sales. Once visitors arrive on the landing page, the goal should shift to conversions. Business owners should entice the visitors to take some action — making them subscribe to a newsletter or fill in a query form. In case your visitors leave the site without any action, your bounce rate will increase. An increased bounce rate is a thing of concern, as it affects SEO (Search Engine Optimization) and conversion.
And at times, an increased bounce rate can be an indicator of poor website design. The best way to deal with poor website design is to follow the trending website design tips. But before we go ahead and discuss ways to improve website design, you should have some idea about bounce rate and how its rate can be reduced.
Bounce Rate: What is It?
What do you understand by a bounce rate? No idea! The bounce rate is the ratio of one-page visits to the total number of visitors. It is the percentage of visitors that leave the site after viewing only one page.
According to Google Analytics, the bounce rate is the percentage of single-page sessions, i.e., sessions in which the visitors enter and leave the site, without navigating to other pages,
In simple words, bounce rate refers to people who have landed on the website and decided to leave without visiting other pages. This is known as a single-page session.
For instance, if a thousand visitors land on a website and 470 of them leave the site without taking any action, then the bounce rate is 47% (470/1000 x 100 = 0.47 x 100 = 47%).
The bounce rate is calculated with the following formula:
Bounce rate = bounces/total visitors
1. Why Bounce Rate is Important
The bounce rate is crucial since it helps to determine how people are interacting with the website. Plus, it indicates the relevancy and quality of a website. It serves as an important diagnostic tool for determining website traffic and conversion.
In case you witness a drop in traffic or sales, then you should consider analyzing the bounce rate. From the gathered information, you will get to know if poor traffic is because of a particular page or because of an entire website that is forcing the users/visitors to leave the site.
If the user experience is the cause for the high bounce rate, you should consider taking website design tips from professionals. They will help you focus on those home pages that were causing high bounce rates. Making necessary design changes or improvements to the pages, such as the landing page or the products page, will automatically increase the chance of customer retention and conversion.
2. How to Find Bounce Rate
From the Google Analytics dashboard, you can get an idea about the website's bounce rate. You will need to click on Audience and then Overview.
A more detailed overview of the bounce rates for individual pages can be observed by clicking on Behavior > Site Content > All Pages.
Apart from Google Analytics, MonsterInsights is another tool that helps to understand the bounce rate and other analytics data from the WordPress dashboard.
3.What is the Ideal & Average Bounce Rate?
The average bounce rate for most websites is somewhere between 26% and 70%.
3.1. Average Bounce Rates for Various Websites
According to SEMrush, the table below shows the average bounce rate for diverse types of websites.
| | |
| --- | --- |
| Websites | Average Bounce Rates |
| Retail and eCommerce websites | 20-45% |
| B2B websites | 25-55% |
| Lead generation websites | 30-55% |
| Non-eCommerce content websites | 35-60% |
| Landing pages | 60-90% |
| Dictionaries, portals, and blogs | 65-90% |
Source: SEMrush
3.2. Average Bounce Rates by Traffic Source
Also, the bounce rate can vary greatly based on the traffic source. Look at average bounce rates based on traffic source:
| | |
| --- | --- |
| Traffic Source | Average Bounce Rates |
| Organic search | 43.60% |
| Paid search | 44.10% |
| Direct | 49.90% |
| Referral | 37.50% |
| Display advertising | 56.50% |
| Social media | 54% |
| Email | 35.20% |
Source: SEMrush
These are some industry figures on average bounce rate. However, if any site is having a high bounce rate, then they should work on reducing the bounce rate.
4. Does Bounce Rate Affect Ranking?
Google has repeatedly mentioned that bounce rate does not influence the ranking directly. But it is better to improve the bounce rate. Why?
The reason is clear. Google considers some engagement signals for considering the SEO ranking. In that case, if the bounce rate is considered an engagement signal, it will impact the SEO.
A high bounce rate means bad visual designs and low-quality content, which causes poor engagement.
When search engines, like Google, Bing, Yahoo, etc., see that visitors are going to a website but not staying there long, they will consider that poor engagement. Hence, they will lower the ranking of the site in search results. A drop in ranking means less organic traffic
This is because Google intends to offer its users interesting and relevant search results. When they see any website failing to serve that purpose, it drops the ranking of the site.
Since a high bounce rate impacts the ranking of a site in an indirect manner, it is better to work on improving the bounce rate. Well, among the several options available, one sure-shot way to improve the bounce rate is to improve website design.
Professionals of a website design company can help with all sorts of website design tips that will improve the conversion rate and lower the bounce rate.
5. Is High Bounce Rate a Good Idea?
No! In fact, a high bounce rate is often considered a symptom of weakness for websites. It might indicate many things, such as the site's landing page is not incredibly attractive to the visitors for surfing, or the site doesn't fulfill its purpose of offering the information/service one might be looking for.
How to Reduce Bounce Rate
A website is the true representation of your business. So, it should be responsive and engaging enough from every aspect, such as design, content, and more. If the website design is not up to the mark, it will fail to stand out or pull customers.
Moreover, visitors will come to your site and leave quickly. This, in turn, will increase the bounce rate of a site. An increased bounce rate means poor traffic. The only way to avoid such a scenario is to follow some website design tips from experts and implement them accordingly on the site.
In case your site is having a high bounce rate, then you have nothing to worry about. There are certain ways to reduce the bounce rate. They are:
Improved User Experience
Avoid Pop-ups
Compelling CTA (Calls to Action) Button
Improve Website Speed
Make Website Mobile Friendly
Build an Attractive Landing Page
Let us discuss each of these points in detail.
Detailed Overview of the Ways to Improve Bounce Rate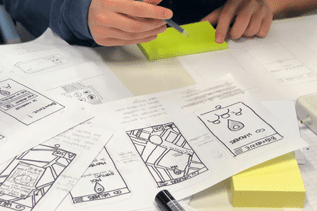 1. Improved User Experience
User experience is the overall experience of the visitor with the website. A user-friendly site will not only improve the experience of the visitors but also reduce the bounce rate. To improve the UX, the first step is to improve the website speed and design for all devices.
2. Avoid Pop-ups
Another interesting pointer for how to reduce bounce rate is to avoid pop-ups. Studies have shown that 70% of users are just fed up with the pop-ups greeting them when they land on a website. The pop-ups hinder their navigation and disrupt their reading. As a result, it leads to a high bounce rate. Avoiding pop-ups is a fantastic way to reduce the bounce rate. So, designers should consider it as an important landing page design tip while revamping the website.
3. Compelling CTA Button
Make sure to keep the call-to-action button quite simple and effective. It should compel the visitors to take the next step, i.e., to make a call or make a purchase. If your CTA is not compelling enough, it won't make users click on it. This might result in visitors leaving the website. Hence, as a part of the website design tips, site owners should make it a point to create compelling CTA buttons. This, in turn, will improve the conversion rate and reduce the bounce rate.
4. Improve Website Speed
Site speed is an important factor for increased bounce rates. It is wrong to think that content is the sole reason for people leaving a website quickly. Remember, if you make them wait for too long, they will turn away from your website immediately.
Keep one thing in mind — even if you have useful content on your website, poor or slow loading time will prove detrimental to your business.
Studies have shown that users or visitors expect a site to load in less than two seconds. If it takes longer to load, then sorry for you. Your business will lose valuable customers and increase the bounce rate.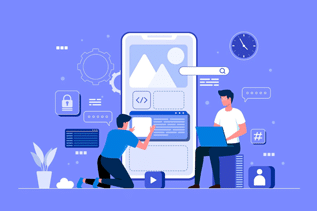 5. Make the Website Mobile Friendly
An important website design tip for small businesses is to make the website mobile-friendly. When a website is accessible from mobile devices, it will decrease the bounce rate. Most people love to access sites while on the move. So, mobile friendliness is not only a ranking factor, but also helps to reduce the bounce rate.
6. Build an Attractive Landing Page
By building an attractive landing page, site owners can reduce the high bounce rate. However, as a part of the landing page design tips, care should be taken to design the landing page in a manner that does not leave the audience with a chance to decide. Rather, they should be compelled to click on the clear and compelling CTA. Doing things like this will help to reduce bounce rates to a great extent.
These are some design areas that are a thing of concern for most businesses. However, by working on these areas with care, website design can be greatly improved. This, in turn, will reduce the high bounce rates that websites face.
Website Design Tips: Helping to Reduce Bounce Rate
What is the biggest challenge that business houses face nowadays? The answer is simple — attracting traffic and ensuring a steady flow of visitors. Search Engine Optimization (SEO) helps ensure that a website gets maximum visibility during search results.
However, certain factors can bring down the site's performance, even if the SEO campaigns are on track.
Factors like website design and high bounce rate are often responsible for poor website performance. In this regard, one must keep in mind that the visual design of a site can have an impact on the bounce rate.
In simple words, website design and bounce rate are interrelated. So, only when businesses try to improve website design will the bounce rate stay low.
Effective Web Design Tips to Follow
By now you might know the bounce rate information is used by Google for ranking a website.
To make a website look attractive and reduce the bounce rate, taking the advice of experts for website design tips is important. Website designers are professionals and can offer some website design ideas, which if followed will help in reducing the bounce rate.
Here, let us take you through some website design tips and landing page design tips that will help reduce the bounce rate and gain traffic for websites.
Read on.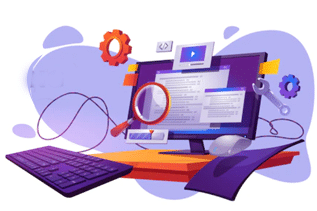 1. Give Your Website A Makeover
Nobody loves a messy website. Whether you accept it or not, the design of a site matters a lot. A lot of people judge a website based on its look. Unless a site is aesthetically appealing, engaging, and impressive, users will just abandon the site.
According to a study, the average attention span of a user is not more than 10 seconds. Within those ten seconds, businesses need to make an everlasting impression on the users to keep them hooked for a long time.
This calls for designing the landing page meticulously. So, to draw visitors to a site, working with website design experts is crucial. The experts, as a part of their website design tips, can offer clean and compelling websites.
2. Responsive Layout
At present, more than half of website traffic comes from mobile devices. So, if the website layout is not made responsive, then a business might lose a potential number of customers. To avoid such a scenario, businesses should make it a point to make their website responsive and optimize it for mobile view.
Just like any other crucial website design tips, if this factor is also followed closely, a higher bounce rate can be avoided. This is because when visitors view the site from mobile devices, they will find the site more appealing and optimized for mobile.
3. Speed Up the Website
Among various website design tips, this pointer should be also considered. The internet is flooded with numerous sites serving the same niche audience. To get an extra edge in this cyberspace, steps must be taken to speed up a website.
This calls for working on the page load time. Also, it is crucial to remove unnecessary elements from the website. Care should be taken not to clutter the site with too many pictures and videos. There is also a need to minimize page redirects and HTTP (Hyper Text Transfer Protocol) requests. When all these elements are investigated, the job of speeding up the website will be easy.
4. Add Social Proof & Credibility to Landing Page
People love to do business with those whom they trust. In other words, when people trust you, they are more likely to buy products or services from you. To build trust, displaying testimonials from past customers is always a good idea.
Highlighting the testimonials on the website and across various eCommerce platforms helps gain the trust of potential customers. Also, as a part of website design tips, displaying the brand logo of the media outlets where the brand has been featured will help to win the trust and confidence of people.
So, during the website revamping process, adding testimonials to various places will make people stay on the site for a long time, helping to reduce the high bounce rates.
5. Use of White Space
White space is also known as negative space. Usually, it is the bank area between the text and images. This is an important design feature that should not be neglected.
If there is no white space, users might get distracted and might leave the site. So, if the white space is used wisely, then it can create a huge difference in the website's appearance. Also, to improve website design, negative space must be used wisely. This will ensure images, content, and videos get enough space between them.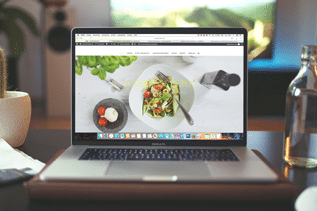 6. Improved Navigation
Remember, if you do not offer good navigation for a website, visitors will not have any reason to stay on the site. They will not visit any other pages, which will result in a bounce rate. So, as a part of the website design tips, site owners need to ensure that they make the website easy to navigate for their audience.
As a part of the website design process, make it a point to ensure that there is a search bar on the top right corner of the landing page. The search bar should make it easy for the users to find a product. The moment they find it hard to locate a product, they will leave the site.
As a part of their landing page design tips, web design experts suggest a heatmap tool. The tool helps identify how good the website's navigation is and what areas need improvement.
7. No Popups Unless Needed
As discussed before, pop-ups act as a hurdle for the UX and lead to a high bounce rate. So, one important landing page design tip is to avoid adding pop-ups unless it is highly necessary. One should remember that in website design UI (User Interface) and UX form important aspects. Since pop-ups are known for impacting the UX, the best way out is not to add them. Even if they are added, they should not be annoying, but helpful.
8. Get Rid of Distractions
Distractions cause a high bounce rate for websites. So, it is important to design the site in such a way that it does not cause any sort of distraction. Remember, loading too much information on the website or using the wrong fonts can cause distractions and a high bounce rate.
So, simplifying the website design can help get rid of any such distractions. As a part of the website design process, an attempt must be made to declutter it. Similarly, the right theme must be used for the platforms. For instance, WordPress sites should use WordPress themes only.
Another important website design tip is to think from a user's perspective when planning a website design. It will help to understand which elements of the site are causing distractions and need to be removed.
9. Effective Use of Color
A website needs to be visually appealing to keep the audience/visitors engaged. This calls for the right color usage for websites.
If the customers/visitors are not able to go through the website correctly, then there is no need to keep the site. Along with the proper use of fonts, the right use of color is important. To improve website design, the use of contrasting colors is always a clever idea.
The text color should contrast with the background color. If the colors are not complementing each other, then it will create readability and visibility issues. Keeping that in mind, proper color choices for the website must be made.
10. Make Texts Readable
Readability is a factor that contributes to a high bounce rate. If the texts are not easy to read, then there is no use in having smooth navigation. When basic readability is ignored, it will lead to poor user experience, especially for mobile users.
During website design, care should be taken to ensure the texts are easy to read irrespective of the device from where they are going to be viewed.
In fact, the text should not be made too small, which will require the users to zoom in and read. Going for the right fonts that make reading easy is the best idea.
11. Don't Neglect Loading Speed
There might be hundreds of website design tips for improving the conversion rate and reducing the bounce rate. However, a crucial tip is to consider the loading speed. According to a report, if a site takes more than two seconds to load, then the site is regarded as very slow.
A fast-loading site has a low bounce rate. Plus, it ranks well on the SERPs (Search Engine Results Pages). So, during the website design or even during the landing page design, the page loading speed should be closely considered.
For minimizing the load times, certain things can be implemented by the designers. For instance, they can do the following.
Minimize HTTPS (Hypertext Transfer Protocol Secure) requests
Combine files
Minimize the first-byte time
Defer the JavaScript loading
Pick a good host
Compress site
Enable caching
Implementing these steps will improve the load time and eventually reduce the bounce rate for websites.
12. Match CTA to Intent
Just like any other tips to improve website design, this is another website design tip that small businesses must abide by. They should ensure that their site's CTAs (Calls to Action) are clear and match the intent of the visitors.
Usually, user intent falls under four categories. They are:
Informational
Commercial
Navigational
Transactional
Informational means users are looking for specific information.
Commercial means users are investigating brands or products with the intent to buy in the future.
Navigational means users are looking for a certain website or page.
Transactional means users are intending to complete the purchase.
During the website's CTA design process, the user's intent should be kept in mind. Only then does the bounce rate get reduced.
13. Add More CTAs to Homepage and Landing Page
When you are running a business, make it a point to motivate your customers to fill out a form or place an order. Unless you can motivate them to take some action, it will not benefit your business.
So, when it comes to web browsing, make sure your visitors perform the desired action. This is when CTAs prove helpful. The call to action should force the target audience to take some prompt action.
Apart from making the CTAs attention-grabbing, they should be rightly placed. When considering some website design tips for improving conversion and reducing bounce rates, this point shouldn't be overlooked.
14. Optimize Content and Formatting
Just like readable text is important to reduce the bounce rate, content and formatting helps to keep people glued to a site for a long time as well. There is a need to make blog posts, articles, videos, and infographics more appealing to the audience.
Also, from a marketing standpoint, the content must be optimized. For instance, when presenting any content, it should be easy to read. Lengthy paragraphs are to be avoided as they can bore the viewers. If they get bored, they are likely to leave the site. This calls for formatting.
During the formatting, aspects like headings and subheadings, bulleted lists, charts, graphs, relevant images, screenshots, actionable elements, and interactive questions must be implemented. This will improve the content design and user experience on the site.
15. High-Quality Images & Videos
High-quality images and videos create a stellar impression on the audience. Within website design tips, web designers try to keep this point in mind. Since videos and images are more eye-catching, it tends to offer better results.
If used together with static content, audience engagement and conversion rate improve greatly. So, good-quality images should be a part of the website design process.
16. Never Stop Testing
This website design tip makes sure everything is running smoothly. Testing such as A/B testing helps to find things that would work well for your business. In the world of website design, things change very frequently. So, continue optimizing and updating the site. This tip for small businesses is also applicable to other businesses.
17. Implement Internal Linking
Following some landing page design tips or website design tips can improve the overall website design and decrease the bounce rate. This fact is true. So, one such tip for improvising website design and reducing the bounce rate is to implement internal linking. Linking regular blog posts or articles to important pages, such as FAQ pages or product page is important.
18. Targeted Keywords
Most often websites just focus on using common keywords for their website without understanding whom they want to target. This results in a high bounce rate. However, with the use of targeted and high-value keywords, website traffic quality can be improved.
Also, it enhances credibility and reduces bounce rate. With the help of Google Keyword Planner, it is easy to get ideas about targeted keywords. Using the keywords properly will improve conversion and reduce bounce rates.
19. Fix Broken Links
Website design tips like fixing broken links are important to reduce bounce rates and improve website performance. A valuable tool for analyzing broken links is Google Search Console. However, other tools like Ahrefs or Screaming Frog can help to find the broken links. Once you find them, make it a point to fix them. This will ensure that when a visitor visits your page, they find what they are looking for.
20. Browser Cross Compatibility
Another significant website design tip for small businesses is to make the website compatible across all browsers. Studies have shown that Internet Explorer used to have a higher bounce rate than Google Chrome. So, the underlying cause might be a broken script or any other issues. This calls for testing the site, again and again, to ensure that the bounce rate is low for all browsers.
21. Adjusted Bounce Rate
Another interesting option when looking for website design tips is that some people use an adjusted bounce rate. This is applicable where there are not enough normal bounce rate metrics. So, you can just simply tweak the Google Analytics code that carries out an event when a user spends some time on the page.
Based on the website, time can be set from 10 seconds to a few minutes. It also depends on how long you want to keep the audience engaged with the site or the product. For instance, the following code can be added to Google Analytics:
setTimeout("_gaq.push(['_trackEvent', '30_seconds', 'read'])",30000); // –additional line
22. Recommend Similar Content
Reducing the bounce rate means making people stay on the website for a long time. This can be done by directing the audience/visitors toward similar content that they might be interested in.
So, at the end of each article or blog post, a section for related pages must be created. Some sites even keep a related articles section on the right-hand side of the blog page. Just like other website design tips, this strategy will reduce bounce rate, improve user engagement, and boost conversions for businesses.
These are some popular website design tips, which if followed carefully will help to improve user engagement and reduce the bounce rate.
For Website Design Tips: Take Professional Assistance
No matter how hard you might work to increase search traffic or get more leads and conversions, there is a high chance of getting a high bounce rate. So, what does it indicate?
This means customers are visiting the site but leaving it without taking specific action. Specific action means making any purchase or filling out a form, and so on. As they are leaving the site, it is not creating any conversion or engagement.
According to a study, poor website design is often the cause of visitors not staying on the site for too long. When visitors leave your site without taking any action, it leads to a high bounce rate. A high bounce rate can be bad for your site.
If you are wondering how bad it can be for websites, then get ready for some unpleasant surprises, such as low conversion rates, poor traffic, and so on. The only way to reduce the high bounce rate is by implementing some changes to the website design.
This is where you can trust the professionals of eWay Corp. Our web design experts will completely revamp your website in no time for improved scalability and responsiveness. Our professionals will follow the latest website design tips that will reduce the bounce rate for your site.
Concluding Thoughts
With so many businesses fighting for visibility, engagement and website user experience are the only paths to success. Even if your site is getting enough visitors, but it cannot keep them hooked for a long time, then you should reconsider website design. Usually, a bad user experience offered by websites is the sole cause of poor engagement.
So, get ready to follow some website design tips that will not only help with web design improvement, but also help create a more engaging website for customers. When a website looks good, then visitors will not come and go. Rather, they will stay on the site and perform any desired action.
If your website is facing a high bounce rate, make sure to work to improve website design. Only then will you ensure success for your website. You will see a good flow of website traffic and a low bounce rate.