Higher Education / Design /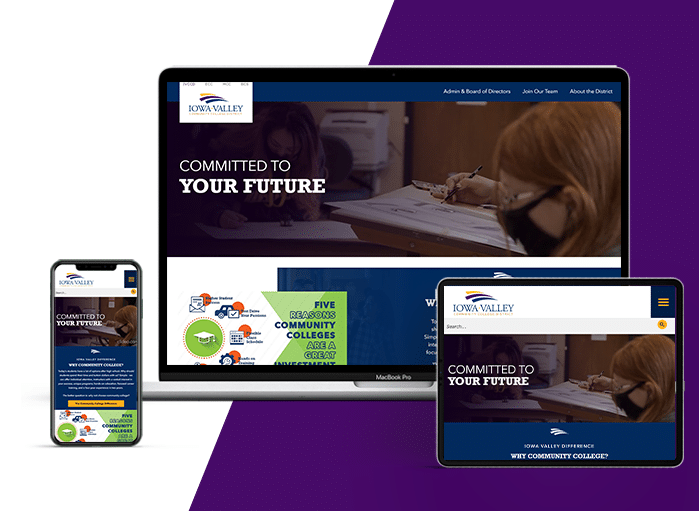 Iowa Valley Community College WordPress | Development
How Iowa Valley Community College Built Its Brand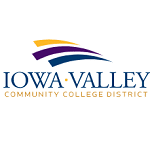 Higher Education / Design /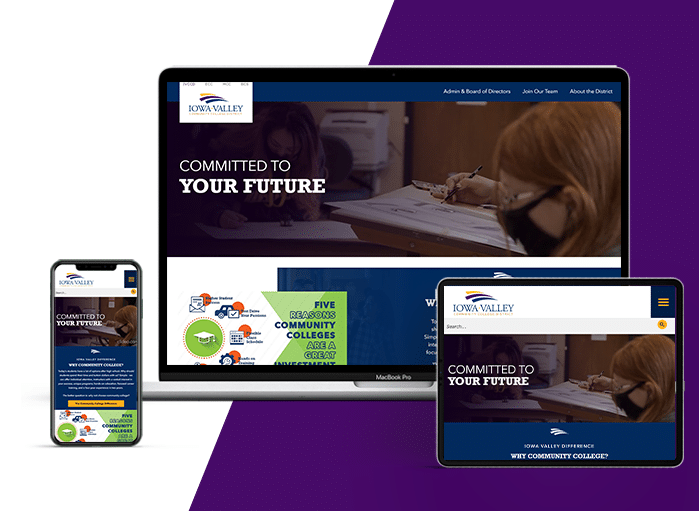 The Iowa Valley Community College District is one of 15 community college districts in Iowa. It has four colleges under its jurisdiction. Although each of them acts as a separate entity, the IVCCD works as a unifying factor for the local institutions. We needed to work on the site for the Community College District as a whole, not for an individual college.
The Iowa Valley Community College District's leading site needed a major upgrade. Inconsistent branding, difficult navigation, and an overall outdated look clashed with the college's primary message to students and prospective benefactors. What's more, their site relied on downloading old, out-of-date PDF files to provide users with information. They needed to rebrand and upgrade their services! Fortunately, we were just the group to help them.
The Problems
In our preliminary interview with the client, they told us that "as a community college in a rural setting, so grabbing and keeping the attention of our audience (high school students reviewing their college options) can be a bit of a challenge." We needed to help them create a new, eye-catching site that acts as a medium for prospective students to find their path to higher education. The IVCCD website had several major problems that we needed to address, several of which could be classified as "general updates:"
Updated Design
To start, the site was visually outdated and needed a fresh coat of paint. This meant reworking the site's color scheme, graphic design, and overall user experience.
Removing Pesky PDFs
A lot of information presented on the site came in the form of downloadable PDF files, which are difficult to update and irritating for users to constantly sift through.
Updating the Site for Prospective Students
Generally speaking, the IVCCD website needed a more effective way to provide information for prospective students. As it was, the site was more or less a digital brochure that provided prospective students with PDF files of outdated information regarding enrollment. Turning the site into an interactive webpage was our main goal here.
In addition to providing resources for prospective students, including current student and alumni voices was essential for them as well.
Including Resources for Stakeholders and Benefactors
In addition to providing resources for prospective students, potential stakeholders and benefactors will also need up-to-date information.
Our Solutions
Although the IVCCD came to us with a lot of things to work on, our solution was simple: WordPress. Since the website runs on WordPress, We solved most of the Iowa Valley Community College District's branding problems with WordPress's easy-to-use website creation program. WordPress lets website managers have complete control over their site's color scheme and layout. Alternatively, users that aren't too experienced with the platform can choose between preloaded site layouts that work well in mobile and desktop formats.
WordPress Widgets
Another thing that made WordPress the best solution for IVCCD was the implementation of widgets. Through WordPress widgets, we could incorporate gifs, video files, and graphic animations into the site with little difficulty, as well as widgets for contacting board members, redirecting to external sites, and running blogs.
The Results
With the makeover done, the Iowa Valley Community College District's website looked like a completely different place! With a sleek color scheme and easy navigation, the site functioned well on both mobile and desktop platforms. When we asked how things were going, the IVCCD board told us that students, staff, and professors loved the new site and how easy it was to use! Overall, the board told us that with "so many more features and capabilities, and we are loving the flexibility this site will give us now and into the future as our needs evolve."
Watch the Transformation of Iowa Valley Community College District's Website!
See the incredible makeover of Iowa Valley Community College District's website in our captivating case study video. Witness how we revitalized their branding, improved user experience, and implemented innovative solutions using WordPress. Watch now and be inspired by the transformation!
Got a Problem? Reach Out to Us!
Are you looking to give your website some major updates? Or maybe you just need to fix some bugs– no matter the problem, we've got your back at. Contact us today for a consultation.