It's not wrong to say that how many leads, conversions, or sales your website generates is proportional to how much trust consumers have in your brand. That being said, it's important to incorporate elements into your website that show your brand is trusted by many. Here comes the role of customer testimonials.
A study conducted by Convince & Convert states that if people had to choose one information source, 50% of Americans are likely to opt for word of mouth. You can find the word of mouth marketing everywhere. It includes customer reviews, star ratings, Facebook recommendations, retweets, influencer content, and recommendations from family and friends.
Testimonial is a particularly effective type of customer review. Testimonials are a powerful tool to boost your brand trust and incorporating them into your website can greatly add value to it. If you have a WordPress website, there are several amazing testimonial plugins you can use.
Why should You Add Testimonials to Your WordPress Website?
To get an understanding of what exactly is a testimonial, let's see what's a customer review first.
Customer reviews are a customer's experience with a service/product of a brand in written form. 76% of Americans consider them to be as trustworthy as family's and friends' recommendations.
Testimonials are a specific part of customer reviews. They can be considered as honest endorsements of a service/product providing information about the overall experience of a customer with a company/brand and how its service/product offered them value.
Consumers trust each other so testimonials help potential customers trust a brand and do business with it confidently.
You can find testimonials in various forms, such as videos, images, or quotes in the widget, footer, or sidebar of a website or embedded within a page or post.
Testimonials can be added by copying them manually into pages or posts. Nevertheless, these WordPress plugins allow you to showcase them in an appealing way, whether that's in a grid, carousel, slider, or other attractive layouts. Based on your selected plugin, you can display testimonials with a short blurb, photos, reviewer's name, business, title, or star rating.
Here's a list of the best testimonial plugins for WordPress:
Best Testimonial Plugins for WordPress
1. Easy Testimonials
Easy Testimonials – a simple testimonial plugin, yet quite effective – is meant to be used by users with different degrees of technical expertise.
For beginners, this plugin adds custom blocks to the Gutenberg editor allowing users to add testimonials as a widget, in the sidebar, or embed within a post or page by dragging and dropping the block. Then, users can select a template as well as customize it with a star rating, customer photo, and unique background color. A template in this plugin is shown below as an example:
If you're a more advanced user, you can employ filters for completely customizing the default template's HTML or upload your custom template for a testimonial. A custom CSS box is also there where you can add code for customizing the way your testimonials appear on desktops, tablets, and phones.
Note: Easy Testimonials plugin is available in both free and premium versions.
2. Testimonials Widget
This plugin is designed to be used by technical users more exclusively, unlike Easy Testimonials that's meant for both beginners and developers.
Testimonials Widget lets you incorporate testimonials via theme functions, shortcodes, or widgets. All these methods enable different options for display of the testimonials. They can be displayed in a single-view page, video slideshow, carousel slider, or list.
Note: Testimonials Widget is available in both free and premium versions.
3. Testimonial Basics
A free and easy-to-use WordPress plugin to add testimonials to a WordPress website, Testimonial Basics allows you to choose from more than 10 styles of template for displaying testimonials in the widget or content areas. You can include the customer's images or Gravatars, add star ratings, and customize the background color and font. Below is an example of how you can show a testimonial using this plugin.
Although the Testimonial Basics plugin may be too basic for some users, it can suit well to users that don't require many customization options.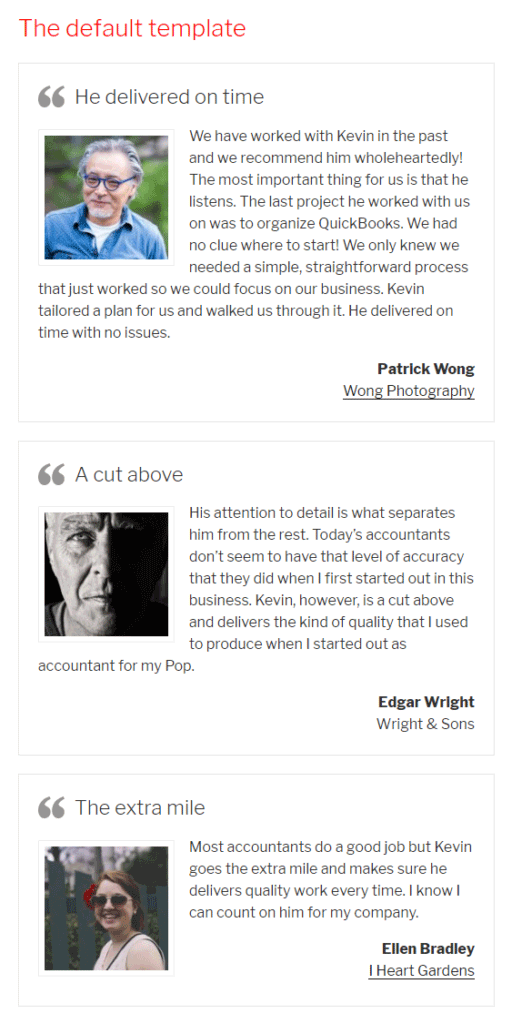 4. Strong Testimonials
This is one of the most customizable and best testimonial plugins for WordPress. The plugin offers several displaying options that include a single column layout, masonry layout, grid layout, and testimonial slider.
Strong Testimonials also has a form allowing customers to easily write their testimonials and reviews. If you get customer reviews on social media platforms, this plugin's pro version can embed reviews from Google My Business, Facebook, Yelp, and more.
Note: Strong Testimonials is available in a free as well as premium version.
5. WPForms
Known as the best WordPress plugin for contact forms, WPForms can act as an amazing testimonial plugin too.
The addon of Post Submissions enables you to build a form that can be easily used by clients for submitting a testimonial directly from your site. You can also include features such as a rating scale, which allows clients to give you gold stars for your work.
Once a client submits a testimonial, it will be placed in the WordPress dashboard area where you can review it and decide whether to publish it or not.
The primary focus of WPForms is ease-of-use. The plugin offers an effortless and simplified process for the customer who submits the testimonial as well as you, the website owner, once you decide to publish the testimonial.
6. Testimonial Rotator
This is a free and popular testimonial slider plugin. You can employ this plugin to feature testimonials in professional-looking slides, and you can also get several thumbnail sizes and transition effects. Testimonial Rotator also lets you specify the speed that slides move at, randomize testimonials assigned to a slide, and define what's shown in the template.
Other handy features of this plugin include – a custom CSS box to style the testimonials, a testimonial custom post type archive page, and the ability to add ratings, author information, and featured images.
This plugin makes an excellent choice if you prefer displaying testimonials in slides.
Note: Testimonial Rotator plugin is available completely for free, however, there's a paid theme package that offers five extra testimonial layouts besides the two included already. Purchasing this package doesn't provide any more options or functionality.
A Recap
These best testimonial plugins for WordPress can be a great tool for building trust with your prospective customers. Position yourself as a reliable brand by leveraging one or more of these testimonial plugins WordPress.
And if you're planning to create a new WordPress website for your business or revamping your existing one, our WordPress developers can build a robust WordPress site for you that's loved by you and your customers!
eWay Corp is a leading IT services company based in Des Moines, Iowa, and an AWS (Amazon Web Services) consulting partner. We provide 360-degree technology services, including but not limited to web development, cloud services, hosting, and managed services. Leverage our technical expertise to boost your business.