Software as a service (SaaS), an innovative branch of cloud computing, has been embraced by businesses across the globe for the unique benefits it brings to the table. SaaS involves the delivery of applications in the form of service over the internet. With SaaS, businesses and individuals need not install and maintain software; instead, they can simply access the software via the internet, liberating themselves from the management of complex hardware and software.
Software as a service application is also referred to as hosted software, on-demand software, or web-based software. SaaS applications run on the servers of a SaaS provider. Access to the application is managed by the provider, including its performance, availability, and security.
The valuable software as a service characteristic helps individuals and businesses work more efficiently. As reported by Transparency Market Research, the SaaS market is likely to reach $164.29 billion by 2022.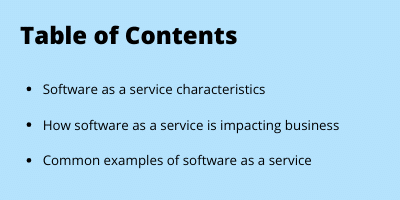 Software as a Service Characteristics
To understand the software as a service model, think of a bank. A bank provides service that's secure and reliable, on a huge scale, while protecting each customer's privacy. All the customers of a bank employ the same technology and use the same financial systems without worrying about any unauthorized access to their personal information.
A bank matches the key software as a service characteristic. Let's have a look at these characteristics:
1. Multitenant Architecture
A multitenant architecture is one where all applications and users share a common code base and infrastructure that's centrally maintained. As all SaaS vendor clients use the same code base and infrastructure, vendors can innovate faster, saving valuable development time that was spent previously to maintain many outdated code versions.
2. Easy Customization
Each user can easily customize applications to suit their business processes without touching the common infrastructure. Due to how SaaS is architected, the customizations are unique to every user or business and are preserved through the upgrades. This implies that SaaS providers can carry out upgrades more frequently with low customer risk.
3. Better Access
Improved access to data is another important characteristic of SaaS in cloud computing. Users can enjoy better data access from networked devices and have the ease of managing privileges, monitoring data use, while ensuring the same information is seen by everyone at a time.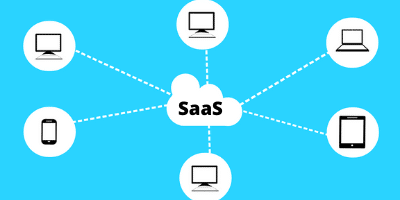 SaaS Leverages the Consumer Web
The web interface of software as a service application is like that of My Yahoo or Amazon.com. The SaaS model lets you customize with the ease of point-and-click, whereas traditional business software usually takes weeks or months to update.
SaaS as a Platform
One of the features and characteristics of SaaS is its evolution as a platform. Organizations are building SaaS Integration Platforms (SIPs) now to create additional SaaS applications.
SaaS is eventually moving beyond standalone software functionality and becoming a platform for different mission-critical applications.
SAAS Benefits: How It's Impacting Business
The features of SaaS in cloud computing enables businesses all around the world to have several advantages. Here are some of the key benefits SaaS offers to businesses: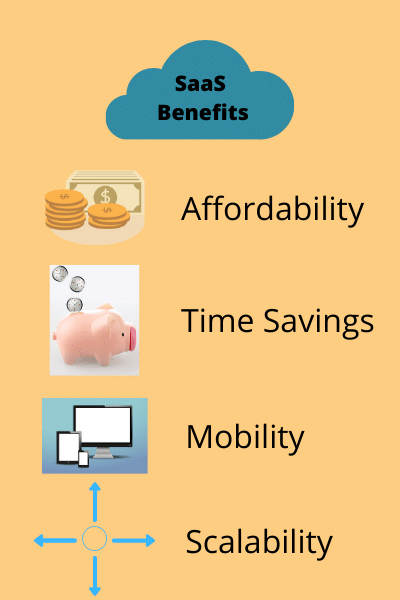 1. Affordability
As software as a service involves businesses leasing software rather than owning, the pricing model is much different. Instead of paying a one-off charge, businesses pay a subscription fee every month, which depends on the number of users. SaaS eliminates the capex costs, allowing smaller businesses to afford applications that previously they could not afford.
SaaS applications are also easier to manage since payments are secured as predictable monthly installments, preventing IT budgets from becoming overly complicated.
2. Time Savings
With SaaS, businesses don't need to install, configure, and manage the software themselves. These administrative duties are handled by the cloud vendor, which means your staff can concentrate on the more valuable aspects of their jobs. Businesses also don't need to worry about software updates as the third-party supplier handles the patches and updates.
Software updates are more incremental and frequent when you leverage a cloud supplier, which means you can achieve improved software maintenance.
3. Mobility
A notable benefit of cloud technology is mobility, which is offered by SaaS at a much higher degree than that offered by traditional software options. As you can access applications through an internet connection, you can use them employing any compatible device at any location. This implies that employees can work whenever and wherever they need to, being productive even on the move.
As more and more devices are being used in the workplace, like smartphones, IoT (Internet of Things) products, and more, there's an increased need to access the software through different devices.
4. Scalability
Being rapidly and easily scalable is another chief advantage of SaaS.
Instead of purchasing more licenses and upgrading the capacity of your server, you simply need to adjust your subscription if there's a need to scale up or down the number of software users.
This is quite beneficial for businesses experiencing unexpected, rapid growth or those employing contract employees during peak demand periods.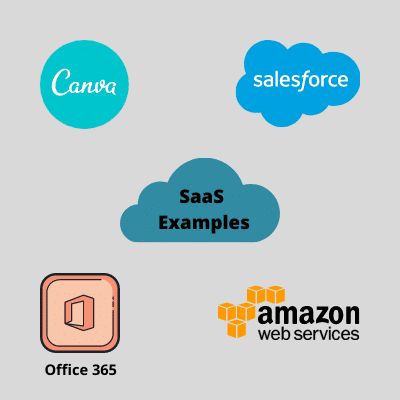 Common Examples of SAAS
Owing to the unique business benefits of software as a service, the use of SaaS applications is increasing day-by-day. Businesses in which the number of employees is less than 50, use 25-50 SaaS applications, whereas businesses with over 250 employees utilize more than 100 SaaS apps on an average.
Here are some common SaaS examples:
1. Canva
An online design tool, Canva lets businesses create attractive graphics and content for various purposes, including social media. This handy SaaS tool consists of a drag-and-drop interface.
2. Salesforce
Salesforce is a complete CRM (Customer Relationship Management) suite for businesses. It allows businesses to collect, access, store, analyze, and monitor customer data through a single dashboard.
3. Cloud-Based Microsoft Office 365
A pure SaaS product, cloud-based Microsoft Office 365 lets you create, edit, manage, share, and access your office files using any device.
4. Amazon Web Services
Another amazing SaaS example, Amazon Web Services (AWS) offers over 150 services to businesses and individuals. AWS provides all the necessary tools like database, business applications, IoT, blockchain, customer engagement, machine learning, security, robotics, storage, and more. All apps in AWS SaaS architecture are cloud-based, meaning that you can utilize the tools from any device with an internet connection.
Are you Partnering with the Right Cloud Service Provider?
Software as a service will continue to evolve as well as impact how businesses work. The concept of subscription-based applications that can be accessed via the cloud continues to gain popularity. Businesses looking to make the most of SaaS applications will benefit by having a reliable cloud service provider by their side. If you're looking for direction on leveraging software as a service, eWay Corp can help!
eWay Corp is a leading IT services company located in Des Moines, Iowa, and an AWS consulting partner. We provide 360-degree technology solutions, including but not limited to cloud services, hosting, managed services, and web development. We can provide you all the technology support needed to boost your business!