Choosing the right content management system (CMS) for a university can be a daunting task. You want to have a CMS with excellent features and one that can be used by your staff with minimal training. Considering this, Cascade by Hannon Hill, is the most suitable among higher education web content management systems. This post discusses why Cascade is an excellent choice as a CMS for medium to large universities and colleges.
What is Cascade?
Cascade, built by Hannon Hill, is a web content management system that allows easy publishing of content to the web. Using Cascade CMS does not require much technical expertise. Among the host of higher education content management systems available out there, Cascade CMS works especially well for the higher education domain.
Some noteworthy benefits of Cascade web content management system are as follows:
Has a user-friendly interface which you can access from any computer that has an internet access. This means you can log into the CMS application from any computer, without the need to install or buy any software.
Has ready-made design templates that give a consistent look and feel.
Offers the "versioning" feature, i.e., each page's past versions are archived and available.
Consists of built-in accessibility checks.
Consists of automatic spell check and link checking features.
Your website is up and available even if the CMS application is not available.
Has a built-in website preview that allows you to view before publishing content.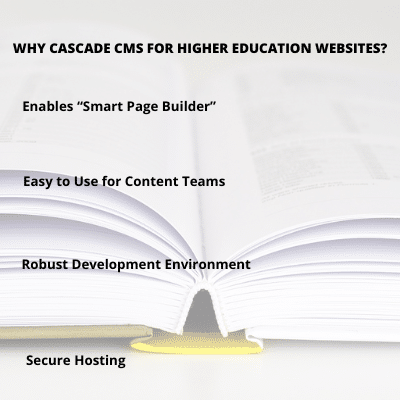 Why Cascade CMS is a Great Choice?
1. Enables "Smart Page Builder"
Cascade CMS allows the building of a "Smart Page Builder" feature that merges building blocks to create all pages of a website cost-effectively and easily through a single interface. Unlike template-based sites, this feature lets us create custom layouts for various parts of the website as required. This considerably lowers the website maintenance and training costs of higher education entities.
2. Easy to Use for Content Teams
Cascade is an amazing content management system for universities due to the following:
Non-technical teams can use the CMS application easily.
You can view content that you are responsible for.
You can schedule publishing dates and manage drafts easily.
You can track changes with version history and audit trails.
You can resize and crop images easily.
You can generate reports for broken links, stale content, accessibility compliance, and spelling errors.
3. Robust Development Environment
Cascade CMS has several features that are helpful for developers. Some of these features are:
Ease of integration with third party systems like Events Calendar, Course Catalog, Faculty and Staff Directory, Marketing Automation, CRM (Customer Relationship Management), and more, using connectors, web services, and feeds.
Good support for XSLT templating, which enables distinction of content and design layers.
Comes with Apache Velocity support for custom development.
Provides granular access control lists and permission system.
Allows personalized user experience.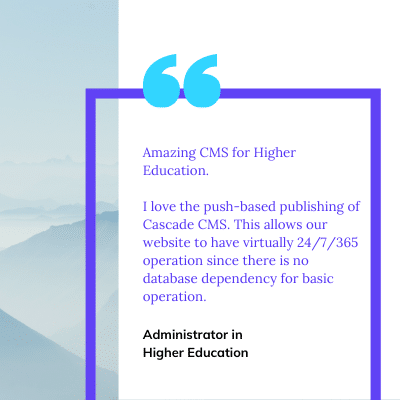 4. Secure Hosting
With Cascade, hosting of the CMS is separate from the production website, ensuring highly secure hosting. This makes it a great college content management system.
How Cascade CMS Works
The Cascade application runs on a server that is maintained by ITS (Federal Intelligent Transportation Systems). When content is published using the application, it gets posted to public-facing servers.
Things to know about Cascade CMS:
You only need your web browser; no other software is needed. However, Internet Explorer is not recommended among web browsers.
Until the "Publish" button is hit, your changes are not visible to the public.
Your website works well even if Cascade CMS has an outage; the public websites run on a different web server.
Building a Higher Education Website? Embrace Cascade with eWay Corp!
With lots of practical and time-saving features offered by Cascade CMS, it truly makes a promising option among higher education web content management systems. If you are planning to build a website(s) for your university or college, make the most of Cascade CMS by having a reliable Cascade CMS development agency by your side.
Hire Cascade CMS experts at eWay Corp to build a robust higher education website. Our expert Cascade development services combined with affordable Cascade CMS pricing makes us a highly sought-after Cascade CMS web development company. Talk to us today to build a futuristic college or university website with Cascade CMS!