Cascade CMS (content management system), created by Hannon Hill, comes with many features that make it an amazing CMS for everyone in an organization. Using the content management system does not require much technical expertise, making it a simple and user-friendly CMS. In our last post, we outlined the features Cascade CMS offers to developers. In this post, we will discuss the features it offers to marketers.
Cascade CMS Features for Marketers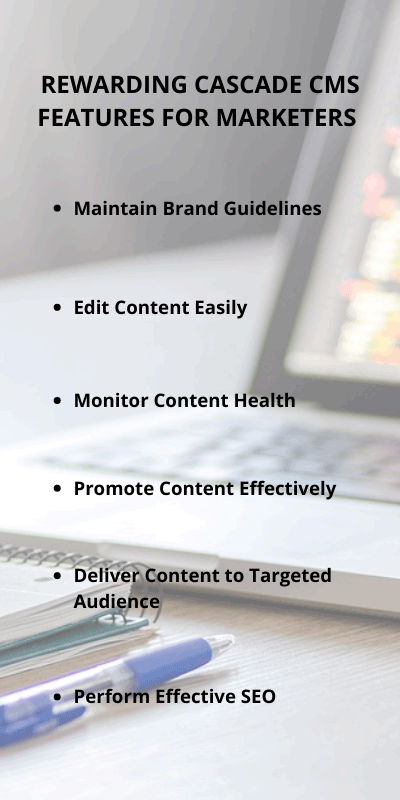 1. Maintain Brand Guidelines
Cascade offers granular user permissions, a workflow builder, content checks, and the facility of publishing to the staging server. All this ensures that the content published on your website represents your brand in the best possible way.
2. Edit Content Easily
Cascade content management system supports structured editing of content, which guides the user through the process of content creation to achieve consistency. This facilitates even quicker creation of content by users without technical expertise.
3. Monitor Content Health
With Cascade CMS, website administrators and users can be alerted of pages that they have not updated in any number of years, months, weeks, or days. You can keep content fresh by using the task manager, daily content report, and content review dates.
4. Promote Content Effectively
Effective content promotion is another noteworthy feature among Cascade CMS features for marketers. With Cascade, you can promote content through social media, emails, RSS feeds, and more. Share content easily across several websites and pages, thereby saving time and resources.
5. Deliver Content to Targeted Audience
Cascade web content management system allows you to deliver strategic, relevant, and personalized content to various segments of the audience on the basis of their form completions and digital body language.
6. Perform Effective SEO
Cascade CMS features for marketers include the ability to create SEO-friendly URLs, add metadata conveniently, and create a sitemap for improving rankings. Cascade CMS consists of built-in reports that you can use for monitoring content accuracy and timelines.
Reinforce Your Marketing Efforts with Cascade CMS!
With all these valuable Cascade CMS features for marketers, you can give an edge to your marketing efforts by switching to Cascade. If you are looking for direction on this, eWay Corp can help you hop on to Cascade seamlessly. We are a reputed Cascade CMS development agency headquartered in Iowa with all the resources and know-how to build robust Cascade websites.
When you hire Cascade CMS experts at eWay Corp, you experience best-in-class and affordable Cascade development services. To know more about our professional Cascade development, get in touch with us today!
eWay Corp is a leading IT services company headquartered in Des Moines, IA, and with a presence in Minneapolis, MN. Our technology solutions include, but are not limited to, web development, managed services, cloud services, e-commerce solutions, and hosting. Take your brand to the next level by leveraging our technical expertise.