Feeling nervous about moving to the cloud is natural. However, studies have shown that the advantages of the cloud can bypass such fear and anxiety that one might have. Reference to the AWS Cloud is often made with respect to different industry verticals, such as AWS for Nonprofits, AWS for Government, AWS for Higher Education, and AWS for Manufacturing.
In this blog post, we will discuss how AWS is helping the Manufacturing industry.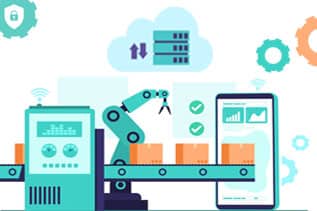 Understanding AWS for Manufacturing
AWS is the most undisputed leader in the cloud computing industry. It has set a benchmark for industries through features like flexibility, cost-savings, dependability, scalability, and security.
AWS is helping leading manufacturers to transform their manufacturing operations with advanced solutions, such as Machine Learning (ML), Robotics, IoT (Internet of Things), and Analytics.
In fact, AWS Cloud technology allows manufacturers to completely focus on their resources for optimizing production, creating new business opportunities, and improving operational efficiencies. As a result, it helps across the complete value chain.
Plus, AWS for manufacturers can drive value to their businesses by maximizing industrial operational efficiency. How? Simply by accessing and analyzing the huge amount of operating data,
Basically, Amazon Web Services gives manufacturing companies the power to take actionable decisions that will maximize factory productivity, as well as asset availability. Since manufacturers are able to extract insights from machine data, that in turn helps them to optimize their overall productivity.
Furthermore, manufacturers are using AWS cloud services like AWS for manufacturing to make full use of AWS cloud IoT to machine learning capabilities, and so on.
AWS for manufacturing: Transforming Manufacturing Operation
The increase in connected industrial devices has allowed manufacturers to build Industry 4.0 and Industrial Internet of Things (IIoT) strategies for optimizing the gathered data. Therefore, AWS Cloud forms an integral part of such strategies and the digital transformation process.
In fact, the manufacturing industry is embracing digital transformation to meet its day-to-day challenges. At the same time, they want to make sure they face success in their business. Also, manufacturers are able to derive insights from machine data by using AWS Cloud technology.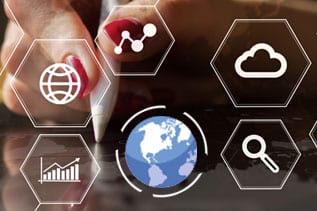 Digital Transformation Is on The Rise
The cloud provides numerous possibilities to accomplish things in a better and cost-effective way. Industry 4.0 is underway and along with IoT has brought many changes to industrial manufacturing customers.
The rise of Artificial Intelligence and smart technologies, such as Virtual Reality (VR), IoT (Internet of Things), Robotic Process Automation (RPA), Augmented Reality (AR), Robotic Process Automation (RPA), etc. is resulting in the digital transformation.
Undoubtedly, the manufacturing industry is slowly making a shift towards a more sustainable and human-centric industrial infrastructure.
How Manufacturing Companies Are Leveraging the Power of Digital Transformation
There is no denying that manufacturers are finding themselves in a constant state of evolution. Hence, manufacturing companies need to keep up with the rapidly changing enterprise technology. Only then they can meet the customer's needs.
For instance, when Harley-Davidson wanted to increase productivity, they put sensors and smart devices in their motorcycle plant. As a result, it helped them to watch machines and production.
The AWS services for manufacturing offer insights usually derived from the IoT. This allowed the company to cut down the fixed 21-day production schedule for any new orders to just 6 hours. This, in turn, helped to cut downtime and save operational costs.
1. Other Examples
Similarly, Ford also redefined its operations by embracing disruptive technology and digital transformation. The firm stopped its production and used scaffolding platforms for carrying out safety inspections for the highest part of its engine plant.
As a result, they are now using drones fitted with cameras to do the job. Thereby, it not only helped the car makers to save time and money but also improved safety.
Simply speaking, these kinds of achievements have made digital transformation an essential part of manufacturers. However, it must be kept in mind that the process will get more intense with the emergence of disruptive technologies, like IoT, Virtual Reality, and Artificial Intelligence.
Since these technologies are going to change the way we work and live, embracing AWS services for manufacturing much ahead is definitely a good idea.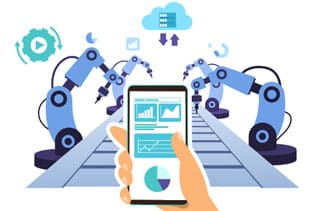 2. AWS for Manufacturing: Making Full Use of Cloud
With the rise of digital transformation, the manufacturing industry is going through a transformative journey, irrespective of automation and legacy hardware.
This is why if proper manufacturing conditions and drivers are used, then it will help to get more out of the cloud and even data as a part of the digital transformation journey.
Cloud computing is making a significant impact on the manufacturing industry. With AWS for Manufacturing, it is easy to put data to work.
At the same time, it is becoming easy to take complete advantage of new data analytics and innovations through the following ways. They are:
Scalability
Reduced costs
Secured data storage so that it can be easily accessed
Access to trapped data in the factory
As a matter of fact, AWS offers modern, cloud-based data architecture that allows one to connect to data as a whole and provides insights into the supply chain.
Even though this helps to optimize the performance and achieve improved data access and security. This is possible with the help of the latest analytic technologies.
Undoubtedly, by harnessing AWS Cloud, manufacturing companies can manufacture and even distribute products that make use of ML, AI (Artificial Intelligence), cutting-edge automation, and robotics.
2.1. What Makes AWS Cloud So Popular?
AWS services for manufacturing like AWS Cloud is flexible. It doesn't need a one-size fit approach. Nor does it require business-critical applications. Rather, flexible options are available for a seamless and phased transition to cloud technologies.
For instance, data warehouses in the cloud astutely combine data and offer a framework for basic reporting and analytics. Data warehouses are often purpose-built for a specific data type and offer immediate cost advantages and performance benefits.
Similarly, data lakes in the cloud allow bringing data together present in isolated locations of external and internal sources in different formats. Hence, the gathering of data will improve the quality of information gathered.
Moreover, integrated data platforms in the cloud can combine and leverage various data sources for enabling predictive analytics through AI and ML algorithms, which fully capitalize on the benefits of data-based decision-making.
AWS for Manufacturing: Insightful Data Gains
Manufacturing companies are constantly looking forward to having a proper understanding of their customers. For this reason, manufacturers are switching to a direct-to-business model. As a result, they are harnessing the power of AWS for manufacturing to ensure digital transformation and manufacturing evolution.
Manufacturing companies are accessing, analyzing, and interpreting data in a timely manner to achieve improved efficiency and competitiveness. In short, the Internet offers manufacturers a huge scope to harvest large amounts of data.
Basically, there are many sources of data that manufacturing companies can collect. In fact, small to mid-sized manufacturers are adopting technology to improve their operational efficiency, especially within Industry 4.0.
Therefore, we are getting to see that by using data manufacturing companies are able to build a business-to-business ecosystem, in order to get closer to their target customers.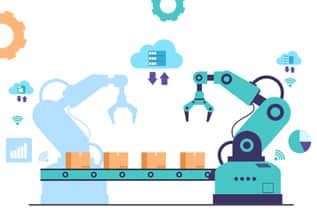 How AWS is helping Manufacturing Industry
There are many ways that AWS services for manufacturing are helping manufacturing units and plants. Let's dive in.
1. Transforming Operations
In particular, AWS for manufacturing is transforming manufacturing operations with the most comprehensive solutions available in the market.
Therefore, rather than focusing on building, as well as maintaining data center infrastructure, manufacturing companies get the time to focus on resources for the creation of innovative products.
2. Tackling Sustainability Goals
Apart from meeting quality and production optimization goals, manufacturers are now able to handle sustainability goals. Thanks to AWS for manufacturing services that have drastically reduced the amount of carbon footprint.
Therefore, AWS is not only helping to optimize industrial energy consumption, but also reducing waste and also replacing enterprise data centers.
3. Driving Down Manufacturing Cost
Meanwhile, we all know that the next revolution in manufacturing is here. With AWS for manufacturing, transforming manufacturing operations with advanced cloud solutions is almost easy.
In other words, it allows manufacturers to optimize factory operations and not the infrastructure required for making things happen.
4. Reduce Downtime
Moreover, manufacturers can use AWS to improve machinery uptime and production quality. Manufacturers are augmenting data and often replacing manually driven metrics and automating data capture for supporting a more resilient and agile business.
Therefore, combining isolated machine data from assembly lines and plants into a common data lake for using the capabilities of AI and ML is helpful for real-time and predictive analysis.
AWS Helping with Manufacturing & Supply Chain
Today's supply chains are basically global networks of manufacturers, logistics, suppliers, and e-commerce that work together for delivering products to industrial customers.
The supply chain members should move past the clipboards and incomplete information. This, in turn, will help to break information silos and make informed decisions that are usually event-driven. This helps to improve transparency simply by adopting a consolidated view of supply chain data.
AWS services like Amazon Forecast and Amazon Managed Blockchain offer the end-to-end visibility that the supply chain needs for tracking and tracing their entire production process. It can even help with supply management with improved efficiency.
In fact, manufacturers can start building the base simply by early adoption and execution of the AWS Lake House Architecture.
Some of the key features and elements of AWS for manufacturing and Supply Chain are given below. Look below
1. Engineering and Design
By allowing manufacturing companies to focus on innovative products and production design with cloud solutions – be cloud native.
2. Production and Asset Optimization
Manufacturing companies can easily focus on maximizing their productivity and asset availability and; at the same time leverage new cloud tools, such as machine learning and AI (AWS Sagemaker Studio).
3. Worker Safety and Productivity
Protect your workers by monitoring employee health or pandemic guidelines and improve employee productivity by automating manual workflows or using supportive hand-held devices.
4. Quality Management
Optimize quality for lower costs and improve customer satisfaction by improving accuracy or discovering quality problems earlier in the production process.
5. Smart Machines and Products
Manufacturing companies can make their products or machines smarter. This, in turn, will help to improve the customer experience and work on the new revenue streams.
It won't be wrong to say that the digitization of manufacturing has taken the industry to a new level. The AWS for manufacturing have helped to improve production and work efficiency by fine-tuning and optimizing the business.
Case Study
1. Novartis Leveraging the Power AWS for Manufacturing and Supply Chain
AWS entered a strategic collaboration with Novartis. The latter is going to use AWS services for its core supply chain, manufacturing, as well as its delivery operations. For many years, AWS Partners and AWS for Life Science customers have used AWS services for modernizing various aspects of their supply chain and manufacturing.
This partnership with Novartis is unique and signals a faster investment by AWS in transformation. Now, let's see why have manufacturing and supply chain transformations become so important for pharmaceutical companies, and how can AWS help.
Well, the nature of the collaboration between AWS and Novartis is such that it stretches to the manufacturing, supply chain, and even distribution.
Now, let's see how AWS is helping Novartis in transforming the manufacturing process in the long run, It is helping them to access all information and helping them to take quick decisions.
1.1. How AWS for manufacturing service is helping?
Over the past few years, targeted and effective therapies have been made possible with the help of new biologic molecules. Often these molecules positively impact a wide range of diseases, including asthma, various forms of cancer, and even psoriasis.
However, these large-molecule therapies are complicated to manufacture – and it increases the chance of logistical challenges as they include live organisms. But at the same time, pharmaceutical companies must cut down the cost of 'small molecule' therapies. Why?
Since small molecule therapies drugs lose patent protection, at the same time, manufacturing companies must scale up the growing demand of the developing markets.
The pharmaceutical manufacturing process has always focused on producing many certain therapies. At the same time, newer or genetically engineered therapies are designed for small groups and are often toned down to a personal level.
All of these challenges require the manufacturers to upstream the supply chain and downstream the distribution so that it is more visible, predictable, and adaptable.
1.1.1. AWS & Novartis
Novartis is a global pharmaceutical company that produces medicines used by over 1 billion people in 155 countries each year. They have more than 60 manufacturing sites.
Prior to the collaboration with AWS Novartis had already centralized its manufacturing data into a Hadoop-based platform, which allowed them to build detailed operational reports.
Data is imported from local historians to HDFS periodically and then batch processed for reporting. Despite providing benefit to the company, the operational reports are determined by static data that could be outdated for making decisions.
The batch mechanism, relying on outdated third-party vendors, hasn't increased its capacity to meet the business' demands, such as: more users, extra metrics, Machine Learning and advanced analytics, and real-time data stream processing.
1.2. Solution
AWS and Novartis are working together to create Insight Centers, which provide real-time, interactive data to people all over the world. Insight Centers collect data from sensors and existing sources like local and global historians to gain insight into site operations.
Historians will provide info from sensors on "brownfield" sites via SAP systems; AWS IoT Greengrass edge devices will give richer data including pics and vids; all data will be saved on S3.
AWS IoT Core and IoT analytics offer cost-effective, reliable storage for data, allowing Novartis to forward the data to an IoT-optimized time series database and utilize real-time interpolation to build predictive models.
Insight Centers grant a cloud-native and highly scalable ecosystem in which existing big data processing tech can be used with minimal changes to be compatible with popular frameworks and tools. This comes at a lower cost, and lets new use cases become possible, such as computer vision-assisted line inspection.
Novartis will use AWS for manufacturing services to track products and processes, check inventory, and estimate costs. Additionally, they will use machine learning and AI to predict machine failure, create digital twins, and forecast demand. These initiatives build on the current projects Novartis is undertaking.
1.3. Case Synopsis
Novartis Insight Centers will provide quality manufacturing data in real-time, allowing for quick, informed decisions. This will improve production quality and reduce costs, excess inventory, and downtime, helping Novartis and ultimately, patients receiving Novartis therapies.
This roadmap will enable faster, higher quality, and more cost-effective personalized treatments to be developed and delivered on time.
Manufacturers Are Improving Their Business Operation by Harnessing AWS
Basically, AWS helps transform manufacturing operations with the most comprehensive cloud solutions while taking full advantage of security. In that case, if you are wondering how manufacturers can improve their business operations by harnessing AWS Cloud, then read on.
Well, AWS can help manufacturers in the following ways.
Products and Production Design
Smart Factory
Smart Products and Services
1. Products and Production Design
Manufacturers are leveraging high-performance computing (HPC) on AWS for solving complex problems to carry out predictive maintenance while cutting down costs. As a matter of fact, HPC continues to fuel significant advancements across various industries, including manufacturing operations.
Thereby, with AWS Cloud, manufacturers easily focus on product design, accelerating time-to-time results for the market by offering optimized CPU, GPU, and FPGA on-demand servers.
2. Smart Factory
Are you a manufacturer? Are you looking forward to improving manufacturing operations? If you said yes to both questions, you are reading the right post.
Basically, AWS harnesses its IoT services, Data Lakes, Edge Computing, and advanced Analytics for capturing, analyzing, visualizing, and even executing the plant floor data.
3. Smart Products and Services
Basically, by allowing access to certain services, such as IoT, Machine Learning, Artificial Intelligence, and Big Data services, AWS is helping organizations by coming up with innovative and smart connected products. This is possible by collecting, storing, processing, analyzing, and acting on machine data.
Given these points, it's clearly high time for the manufacturing sector to embrace AWS technology or services, such as AWS for manufacturing.
AWS for Manufacturing: Other Advantages
Some other advantages offered by AWS for manufacturing are:
Lower IT/OT Costs
Innovate Faster
Improve Operations
Enhanced Security
1. Lower IT/OT Costs
AWS for manufacturing services has been helping to improve business operations by pushing in innovation. With AWS offering pay-as-you-go-microservices, it is helping manufacturing companies to pay only for storage space used.
In fact, with the help of serverless computing models, manufacturing companies can greatly reduce the cost of running a plant and associated product programs.
2. Innovate Faster
There is no denying that AWS offers a wide range of global cloud-based products, which include analytics, cloud computing, storage, IoT, and security. Running any of these services in the cloud allows engineers and designers to solve a problem quickly.
With AWS for manufacturing services, manufacturers can improve their innovation pace. Thereby allowing organizations to reduce their result time. In short, AWS comes with a leading suite of purpose-built manufacturing services and solutions.
3. Improve Operations
The second benefit that AWS services like AWS for manufacturing offer are improved operations. In fact, AWS makes it easy to build and even tailor the data strategy. Wondering how?
Well, by allowing us to securely store, categorize, and even analyze the data present in a centralized repository. It helps to offer real-time, predictive analysis for improving overall equipment effectiveness (OEE), product quality, service levels, and even helps with supply chain efficiency.
Simply speaking AWS allows customers to build, tailor, categorize, and analyze data lakes on a real-time basis.
4. Enhanced Security
Cloud security stays the top priority for AWS. So, manufacturing companies as a customer of AWS services can greatly benefit from it. Well, right from the data center and the network architecture are designed to meet the demands and needs of high security by any organization.
Know About the Perks of Incorporating AWS for Manufacturing Business
It is true that AWS Cloud has truly transformed the work process of many sectors over the past few decades, including the manufacturing industry. However, many businesses, including manufacturers are apprehensive about shifting their whole business and IT operations to the cloud.
However, we have brought forth some reasons that would surely sway the decision of the business houses and they will surely take advantage of the AWS services like Cloud Computing technology, AI, ML, and more.
Let us dive into those factors.
1. Reduce IT Costs
Manufacturers may save a considerable amount of money. How? This is because the cloud is going to eliminate the need for any in-house server or any new hardware. Subsequently, it is going to remove the need to hire any maintenance personnel for checking the servers within the office space or any other facilities, such as factory sites, plants, and more. When using AWS, manufacturers just need to pay for the services they are using.
2. Reliability
AWS is a dependable service platform that is very trustworthy. In fact, they are far better than the internal setup. With AWS, there is no need to worry about server failures or any other problems that might be related to the IT infrastructure and so. The experienced staff of AWS can look after any issues and resolve them promptly.
3. Manageable Processes
When using the cloud, the cloud provider is usually responsible for each technical aspect of the service. For this reason, customers don't need to worry much. Rather, they can focus on other aspects of their work. AWS staff with their deep technical expertise and experience can deliver great innovation.
4. Affordable Storage
With so much data, a question that might strike your mind is how to keep them protected. Manufacturing businesses try to use more storage capacity with encryption for protecting the data. As a result, they keep on buying more external storage solutions.
It is difficult to justify the testing, buying, and managing extra storage devices which generate extra costs. However, the cloud offers an affordable and reliable way to store and protect data. It is much more secure. With the cloud, businesses have access to:
Automated backups for reducing any kind of disruption, in case of any system failure, security incident, and more.
Prompt response time offers easy and ready access to data, even if the data and the users are differently located. This, in turn, helps to keep the work process and the workers highly productive,
The ability to define, as well as enforce security and governance for data in one place helps to simplify the regulatory compliance and security process.
Even though cloud-based structure is purpose-built, it supports the needs of the manufacturing business, it is scalable. In simple words, the storage capacity is easy to increase based on the need.
Professional Help
In case you find any kind of difficulty in getting started with AWS for manufacturing, take professional help. As AWS Partners, eWay Corp can help manufacturing clients to have a better understanding of the platform.
Final Thoughts
AWS has a strong presence within the industry. It has pioneered excellence in the designing and manufacturing of smart products by making use of robust technology. With the help of AWS for manufacturing, it becomes easy to meet the requirements of the manufacturing industry.