AWS for higher education is a type of service rendered to colleges and universities by Amazon Web Services. However, the costs or discounts offered to colleges and universities might vary depending on the applications and solutions used by the colleges and universities.
The education sector has come a long way since the digital transformation. Gone are the days of using desktops or dot matrix printers. Now, this sector is embracing new-age technologies, such as laptops, tablets, iPads, and many such devices to provide education without any disruption. In fact, to make education easily accessible for all, this sector has embraced services like AWS for higher education offered by AWS.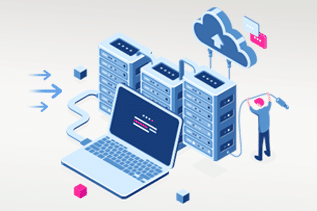 AWS Accelerating Education Industry
AWS is not just helpful for nonprofits or healthcare sector or government agencies or other major industries. It is proving equally helpful for educators and learners.
Apart from learning the ins and outs of AWS for higher education, AWS is a great tool to help students learn remotely and to provide remote work opportunities for staff and researchers.
Moreover, with education moving online, it has become possible for students to complete their studies. Similarly, researchers can complete their research from any part of the world.
AWS for Higher Education: A Significant Shift from Traditional Education
Over the last decade, cloud computing has brought some significant shifts not only in the education field but also in the way students learn.
For instance, educational institutions are making the stride by shifting to cloud-based learning systems from traditional classroom-based learning.
Cloud solutions are offering opportunities for innovation. It plays a crucial part in the education sector by governing how fact, AWS for higher education is playing a crucial part in the education sector by governing the ways schools, colleges, and even ed-tech companies can access the cloud service.
At the same time, it is committed to promoting a vision of education in which business interests can thrive.
The prime benefit of AWS for higher education services is that it allows students to access educational materials from anywhere in the world at a low cost.
Moreover, educational institutes are gearing towards the anytime, anywhere model. That is because this model supports better time management so that the educators and the students can interact with each other without thinking about boundaries.
Models depicting virtual classrooms like Adobe Connect are simply perfect as it allows students to carry out live interactions and even participate in different learning activities. AWS for higher education allows institutions to establish their presence even in areas far from their reach. thus, offering students endless possibilities to learn new things.
AWS Became a Boon During Covid for Education Sector
We all know that COVID-19 created havoc all over the world. It posed challenges to every sector including the education sector. The pandemic not only disrupted the global education crisis but also disrupted the economies.
Fortunately, the challenges of COVID-19 have been addressed with the help of the cloud services like AWS for higher education.
Whether it's a primary school and an elementary school, or a higher education and research institute, cloud computing has been helping to transform education.
Studies showed that during the COVID-19 pandemic, the learning crisis became sharp. Children and youth suffered significant learning losses because of the pandemic.
Some evidence shows that each month of school or college closure led to a full month of learning loss. Hence, it rightly pointed out the limited effectiveness of remote learning.
Hence, it is not surprising that cloud computing reached an estimated market value of $25 billion in 2021.
1. Use of AWS for Education
Let us see how AWS for higher education is helping various people associated with the education sector.
1.1. Helping Students
Just like in other countries, India had to switch to cloud-based learning due to the need to close its in-person learning system. School closure resulted in a digital divide and impeded the effectiveness of remote learning.
Simply because children from the lower-income group didn't have any access to devices or due to electricity couldn't access remote learning.
However, it's only one side of the coin. On the other hand, AWS for higher education proved beneficial for higher educational institutions.
They switched to state-of-the-art technology and learning solutions for bridging the educational gap and offering remote learning solutions to students.
In India, educational institutions like the Indian Institute of Technology – Delhi, Sri Ramaswamy Memorial Institute of Science and Technology, etc., partnered with AWS and Impartus to deliver education virtually.
1.2. Helping Teachers
AWS for higher education service is also helping teachers through the creation of a teacher management portal. Teachers can save their lesson plans and all related assignments in the cloud.
They can share it with the students so that they can see it. For instance, if by chance, a teacher's laptop fails then there won't be any need to recreate the whole information. All the information can be retrieved from the cloud.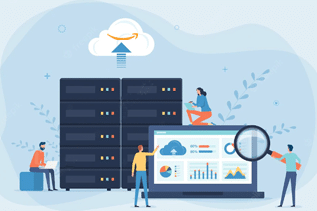 What Makes AWS So High in Demand for Educational Institutions
Right at the core of digital transformation, there is a high need to leverage data and associated services, in an agile, cost-effective, scalable, and secure way.
Migrating data and services to a cloud platform like AWS is going to help the educational sector reap the full benefits of AWS Cloud.
With AWS for higher education services, educational institutions can create a customized infrastructure that is flexible and highly efficient in supporting the core mission of the educational sector.
Educational institutions worldwide seek reliable solutions to help professors, administrators, and students stay productive and connected, both on and off campus.
During uncertain times like COVID, education providers looked for dependable solutions that would facilitate distance learning for students and ensure remote work for their staff.
AWS offers a curated workspace like AWS higher ed to help institutions, such as colleges and universities navigate the tough waters and deploy solutions for students without delays.
How Amazon Operates in Education
It is a known fact that the technology giant Amazon is increasing its reach across a wide range of sectors and industries. They have successfully made their entry into the educational sector and are offering services like AWS for higher education.
In fact, around 96% of leading research institutions are already using AWS to lower IT costs, launch student analytic initiatives, and more.
AWS looks forward to promoting itself as an important substrate of learning and teaching, showing its capacity to improvise virtual education, as well as on-demand learning.
It equally focuses on promoting personalized learning with the support of digital transformation through cloud services, such as artificial intelligence, data analytics platforms, and more.
To understand AWS Cloud in a better way, let us see how students and teachers are using AWS for higher education.
1. AWS for Higher Education helping Students
The AWS for higher education module help students in the following ways. They are:
1.1. Building A Career Path
Students, whether they study in a school or a college, or a university are benefitting from AWS for higher education.
The AWS Educate is providing self-paced training courses, as well as resources for new cloud-based learners, including hands-on training in AWS Management Console. Thus, ensuring students can build a career in the cloud.
In short, AWS Educate is perfect for AWS beginners. The platform allows new learners to know about AWS through blogs, articles, videos, and interactive tools.
For IT students, AWS education is a valuable resource for learning about the cloud and AWS.
1.2. Help Students Grow
Any kind of certification program helps an individual to grow. The same can be said for AWS certification. The certification can help a student to get a competitive edge over others in their resume.
At the same time, it trains them in technology. With additional certifications in AWS students can build their career graph.
1.3. Used as a Learning Environment
AWS for higher education offers a virtual learning environment. Apart from hosting IT infrastructure and applications on the cloud, students can use the platform to develop apps or even programs for the web.
This, in turn, reduces the chance of any accidental damage that a live environment always entails during the learning process. Also, students can easily back up their learnings and remove any sort of errors.
1.4. Access to Tools
It is a known fact that AWS offers a wide range of tools to students. The tools can be used to learn application development, maintenance, management, and orchestration.
Students can easily develop a comprehensive knowledge of cloud computing resources, such as the development of artificial intelligence or any kind of machine learning solutions.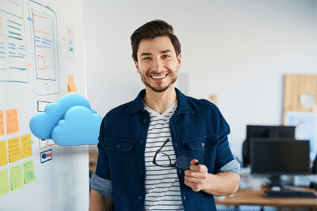 2. AWS for Higher Education helping Teachers
Now, let us see how teachers or educators are taking advantage of the AWS higher ed platform to train students and offer distance learning solutions.
2.1. Teaching Students about Cloud Computing
There is no denying that AWS for higher education is the best service for teachers or educators. It offers them the opportunity to train students regarding cloud computing and virtualization.
Having an AWS for higher education account, educators get the opportunity to train and guide students in real-time. Also, students get the opportunity to learn from anywhere, no matter where they are staying.
2.2. AWS Helps to Build Educational Apps
New-age educational startups are using the foundation of AWS to develop educational apps. This, in turn, allows the students to learn new things through the clouds.
Educational apps are deployed directly on AWS, to take advantage of cloud computing resources.
2.3. Provides Support to Educational Portals
Still many schools are embracing remote learning, as well as hybrid learning. This calls for designing new educational portals and improvising the existing ones. For all these tasks, AWS is a smart choice.
2.4. AWS Can Support Customized Infrastructure
Educational institutions, such as colleges or universities are building their IT infrastructure on AWS. At the same time, higher-ed organizations are allowing managed service providers to look after the applications or tools running on the AWS higher ed platform.
It won't be wrong to say that AWS Cloud is the future of education. Simply because AWS for higher education has enabled remote learning and even offers solutions to prevent learning disruption for students from across the globe.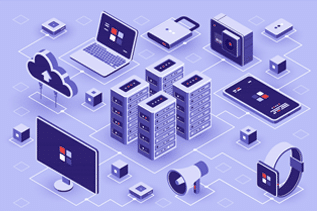 Sectors That Are Using AWS for Higher Education Service
AWS services like AWS for higher education are widely used by different educational sectors, such as higher education, edtech companies, and primary as well as secondary schools.
Higher Education: Colleges and universities, Research work, and lifelong learning
EdTech Companies: Education technologies, Enterprise software, and Startups
Primary and Secondary Schools: Public and private schools, School districts, and State departments and ministries
AWS for Higher Education: Making AWS An Excellent Tool
Education is not only a human right but also a powerful driver of individual, societal and economic development. It is one of the strongest instruments for promoting employment and reducing poverty. Hence, it is not surprising to see that educational institutions, starting from K-12 schools to colleges, are making huge strides to seize this opportunity.
Educational institutions are using AWS Cloud Computing to improve the efficiency, effectiveness, and responsiveness of schools or colleges across the world.
So, through AWS Cloud services like AWS for higher education, the education sector is benefiting in the following ways.
1. Support Student Success
Starting from teachers to instructors, universities to educational institutions share one thing in common, i.e., to develop successful students.
The AWS higher ed services are helping institutions to personalize the student learning experiences by letting students access applications from anywhere. Thus, helping to improve the learning outcomes.
In other words, AWS supports fast student collaboration. It creates endless possibilities for collaboration. This collaboration is advantageous for students and teachers. For instance, students and teachers can resolve problems in a trustworthy manner.
In case a student gets stuck with their projects or assignments, teachers can use collaborative learning offered by the cloud platforms to guide students. This can help everyone to remain on the same page.
2. Provide Security Compliance
The AWS for higher education is simply perfect for security-sensitive institutions that follow stringent security requirements and data privacy. However, even in the world of education, data, information, images, and content must be stored securely.
AWS for higher education offers high-end security through authentication steps. Moreover, even after improvising the IT infrastructure, any sort of data remains available to the teachers and students very easily.
3. Offer Agility and Scalability
AWS allows educational institutions to create a customized infrastructure that is even more flexible and efficient. The storage can be easily scaled up or down as per the requirement of the students or school or university.
For instance, during traffic spikes or when usage is at its peak, storage can be easily managed efficiently.
Scalability in education is especially important. It implies flexible accommodation for the users, who could be students, researchers, faculty members, or even management authorities.
Due to flexibility, users can scale their learning curves through various applications, such as Google Classroom. Well, many apps that are running on AWS are helping students to manage their assignment submissions and even helping teachers in tracking the progress of the students, and more.
4. Helping with Cost Saving
Services like AWS for higher education is a pay-as-you-go model. Hence, it comes with the ability to scale up or down at a fraction of the cost. There is no doubt that AWS is the driving force for contemporary education and is available at a reduced cost.
The reason is that cloud-based applications for education aren't needed and can be operated from desktop, tablets, smartphones, etc. So, it won't be wrong to say that learning has become easy and convenient for students.
A real-time cloud-based application is Google Drive, which offers 15 Gigabytes of free storage to run or use this app.
5. Provide a Variety of Learning Styles
The learning style used by various educational institutions calls for modernization. This is achievable through cloud computing services. In fact, a variety of learning styles can be adapted by cloud-based applications.
Once the learning styles are integrated with the cloud application, it becomes available to users in the form of video tutorials, discussion forums, and so on. Educational institutions can add different learning styles.
This will ensure students can access a high standard of learning through innovative cloud solutions.
AWS for Higher Education: How AWS Is Benefitting the Higher-Ed Sector?
Colleges and universities are a part of higher education programs. In this age of digital transformation, higher educational institutions are switching to cloud infrastructure not only to support teaching and learning but also to offer improved collaboration.
1. Implement new platforms and tools
Cloud allows higher ed institutions to create improved connections through digital platforms and tools. This, in turn, will simplify technology for educators, students, and higher education staff.
2. Boost Productivity and resilience
Investing in cloud solutions like AWS for higher education can help colleges and universities to increase their operation scope of being strong during challenging times.
With assignments and tasks uploaded to the cloud, it allows teachers and staff to boost their productivity. They can focus on other tasks that need immediate attention.
3. Reducing the Costs
Unlike the traditional IT infrastructure, a cloud computing model like AWS for higher education isn't very costly. So, the saved cost can be used more wisely in cases where the institutions might be facing a fund crunch.
4. Advance the research process
Cloud providers like AWS are equipped to handle complex scientific work. Cloud services allow users to store sufficient data; hence, making it easier to collaborate with others all over the globe.
5. Tap into Machine Learning and Artificial Intelligence
Higher-ed institutions through AWS higher ed can pull data by using artificial intelligence (AI) and machine learning (ML). This allows them to get a better insight into matters like learning or analysis for personalized and even active learning.
6. Getting Answers from Predictive Analysis
Higher-ed institutions, like colleges and universities, are tapping into machine learning to get answers from data.
Often cloud tools connected to AWS for higher education services are helping universities run solutions that benefit them in the long term. For instance, data analytics provides insight into things like student retention and engagement.
7. Launch Remote Instruction
For higher education institutions, remote education is becoming a norm. For this very reason, teachers can offer remote instruction as a part of the virtual courses. The instructions will not drain the resources of the educational institutions.
Post-COVID virtual courses are more in demand from students, especially from those who are not willing to go back to the traditional class-module.
The University of Texas is offering complete flexibility to its students for the Master of Science in Computer Science Online program. The university has cut down fees and offers an advanced degree program at an affordable rate to bring back its students.
8. Create cloud-based contact centers
AWS for higher education services enables universities to create cloud-based contact centers for IT helpdesks and financial aid. The contact centers can offer all sorts of support needed by students, faculty, staff, and even for parents.
9. Create Virtual labs
The creation of virtual campus labs can support online distance learning. The virtual lab will consist of centrally managed desktops and applications easily accessible from any web browser.
Plus, they are also secured. So, educational institutions are at the liberty to scale up their infrastructure without the need for any physical hardware.
10. Access to the Latest Tools
For students to faculty in higher-ed, switching from text-based books and outdated software to cloud-based tools comes with a lot of benefits. This includes accessing tools from different devices and even offering highly affordable access options.
The cloud-based versions of industry-specific applications will help the students to get hands-on experience with professional tools without shelling out any money to buy licensed tools.
With tools like Adobe Creative Cloud, students can get a subscription model for their course. Similarly, Autodesk offers certain tools that are completely free for students.
Getting Started with AWS
To get started with AWS for higher education, just keep in mind that AWS is a complex technology platform. However, its setup has a substantial learning curve.
However, when entities look forward to the pricing system, they might find it less complicated. This is because AWS cloud computing follows a pay-as-you-go model which means that you are paying only for only the storage you used.
However, in case you find any difficulty in getting started with AWS, take expert help. As AWS Partners, eWay Corp can help clients have a better understanding of the platform and determine the right package and even the usage for them.
Wrapping Up
Integrating AWS Cloud Computing into the educational environment gives flexibility to students, teachers, researchers, etc. to work and learn from anywhere.

Cloud facilities are making the learning process a smooth one and opening new opportunities for students. For educational institutions, it is not only reducing their IT costs but also enhancing opportunities for transparent and effective collaboration.