Digital Transformation has become the next daring gold rush an advancing business can utilize to move farther ahead, but the role it plays in a business isn't always easy to define. In many cases, digital transformation becomes such a massive undertaking that a new executive role is created altogether, the Chief Data Officer (CDO). In other instances, it falls into the hands of the role that has always experienced change, the CIO. To understand what these new responsibilities are and how the CIO will be redefined or split into another role altogether such as the COO, we need to understand where the CIO has come from and where it can be a solid fit for digital transformation or not.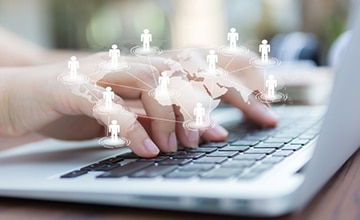 What the previous role has been
The CIO came into existence in the early 1960s when computers were beginning to show their immense use in business. Initially, they did not hold higher positions but instead were senior or even middle managers in data processing or information systems (IS before IT grew). They were like a head of IT more than what their current role is now. The large vendors of the time (IBM for example) made the decisions of IT strategy while the CIO implemented it.
This began to change after the 1990s when the World Wide Web grew in public access. With this massive extension of accessible information came the CIO's involvement in business and IT strategy so the company can understand how to take advantage of this great radical change in the business world.
Where it is now
As large companies continue to disrupt the digital landscape that businesses look to take advantage of, an expert in navigating this terrain needs to come forth. With the recent birth of the CDO in many businesses (63.4% of executives report having appointed a CDO) becoming one of the top advisors for the greatest growth, a majority of digital transformation is being monitored by someone next to the CIO; the problem that may arise here is at this time, the CDO definition is an individual who transforms analog parts of businesses into digital ones as well as overseeing the operations of digital sectors such as mobile applications, social media, and any other virtual goods in web-based information.
Much of this transformation is heavily influenced by the large cloud-based hosting organizations and the CDO then works to implement and oversee a smooth digital transformation or transfer into managed cloud hosting. This position's origin story sounds like that of the CIO about 60 years ago. So what does the CIO need to do when it comes to Digital Transformation?
It should be noted that, while the CDO is an integral part of this new landscape, the CIO is the one influencing business decisions on any part of the digital side of an organization. When making a change, this older executive position has been the leader that can convince a board of stakeholders of what needs to be done in the world of data for optimal business growth. It is in this sense now that the CDO is looking at the digital transformation from a supervisory role while the CIO looks at it from the role of building revenue. This currently can either be a fantastic way to navigate the digital landscape or a difficult separation of responsibilities depending on the quality of communication and the open-mindedness of both parties.
Where it Will Be Going
In one future, we could see the CDO becoming the main business influencer of a company, especially as Digital Transformation continues to grow at its incredible rate. It is estimated already that 90% of all large companies will have a CDO by the end of 2019; marking that the position will grow just as quickly as the environment it was created for.
We predict that there are two main potential paths for the CIO as a result. They could continue on their evolving path, training to seek out business opportunities for their companies. Digital Transformation will simply be a new side of their company to understand and advise where to continue from there.
In another alteration to the executive board, the CDO may find themselves in a permanent position moving into controlling and advising the partnerships between hosting companies and their business working to manage only the Digital Landscape of the organization. This could then lead to another deputy position along the lines of the CIO's Chief Operations Officer for the remaining Data Maintenance.
Moving Forward for You
In either growing situation, the role of all IT teams continues to increase at an incredible rate. There is a staggering amount of business sacrificing their time and resources maintaining an aging system and leaving no room for continued development and insight into Digital Transformation and Cloud Computing. Implementation of ideas the CDO or CIO motion to accomplish can quickly become overwhelming and taxing on every budget whether employee or financial.
In the world of smaller businesses looking to keep up with the constant change and expand, starting with only a few employees, it becomes even more crucial to find a cost-effective, yet impactful way to navigate the evolving digital landscape.
eWay Corp can provide you with not only a CDO and CIO, but an entire team of professionals in Digital Transformation backed by over 13 years of working in the business. With our defined Discover, Design, Develop, Debug, and Deploy system, we thoroughly perfect your website and keep you in the know with transparent reports throughout the entire process.